Splendor
(1999)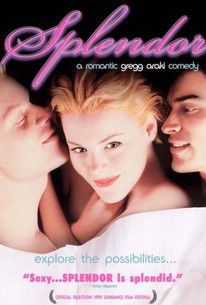 Movie Info
Splendor, a sexy, stylish, and giddy romp about a white-bread beauty and her bevy of beaus, is designed to charm you while splattering romantic idealism in your face. Veronica is a picket-fence-pretty actress searching for a good man in Los Angeles. While slam-dancing at a Halloween rave, she meets Abel, a sensitive poet who moves her soul deeper than anyone before. Ten minutes later, she locks eyes with Zed, a supersexy, tattooed drummer with incredible biceps. Veronica faces a dilemma: Should she choose love or sex appeal? Whatever--this is LA--she chooses both! But after Abel, Zed, and Veronica form a picture-perfect threesome, along comes Ernest, a handsome movie director with a set of baby blues and a bank account that sweep her off her feet. Now what is a girl to do? With a kick-ass sound track and Generation Extreme art direction, Araki gives a campy twist to the one girl-two guys routine. His rebellious sensibilities are all over this romance as he playfully perverts the hetero ideals of the nuclear family and fantasies of knights in shining armor. Defying the rules of physics and convention, Veronica and her boys find happiness on their own resplendently shallow terms.
Critic Reviews for Splendor
Audience Reviews for Splendor
½
Splendor is conceptually interesting, and occasionally complimented well by Araki's visual flair, but overall it falls short. The humor is completely ineffective for the most part, with strained comedic scenes that worked to aggravate me rather than amuse me. Kathleen Robertson is a capable and beautiful lead, and she plays this role very well overall. The same cannot be said for her co-stars Johnathon Schaech and Matt Keeslar, both of whom deliver forced and often downright annoying performances. A mildly entertaining but altogether unnecessary film.
Leigh Ryan
Super Reviewer
Splendor Quotes
There are no approved quotes yet for this movie.