Payback
(1999)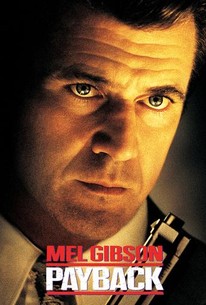 Movie Info
Porter (Mel Gibson) is pulled into a heist by his old friend, Val (Brian De Palma regular, Gregg Henry). As they're stealing $130,000 in laundered drug money from Chinese Triads, no one is going to call the police. Everything goes smoothly until Porter's wife, Lynn (Deborah Kara Unger), shoots Porter in the back. After Val had shown Lynn a photo of Porter in the arms of another girl (Maria Bello), the two planned the double-cross together to pay off Val's mob debts so he could return to "The Syndicate." They didn't plan well enough, though, because five months later Porter's back, a complete sociopath who wants his $70,000. Brian Helgeland, the screenwriter for L.A. Confidential and Conspiracy Theory, makes his directing debut with this adaptation of the novel The Hunter by Donald E. Westlake writing under the pseudonym, Richard Stark. The same novel served as the basis for John Boorman's Point Blank starring Lee Marvin.
Critic Reviews for Payback
Audience Reviews for Payback
½
Starring a pre-shunned Mel Gibson, Payback is an exciting neo-noir crime thriller brimming with black humor. Mel Gibson's character, Parker is a criminal with an interesting moral code of his own set against the ?syndicate? in a film in which everyone is some degree of sleazy. Also excellently cast is Gregg Henry, who must have been born to play a sleazeball because he does it so well. Maria Bello is great as tough yet sexy as is Lucy Liu. She plays a hilarious dominatrix who can beat me up anyday. William Devane and James Coburn also shine in smaller roles. The film has a relentless quality, and an outstanding morbid, grimy vibe. I give great kudos to first-time director Brian Helgeland, who wrote several classics such as LA Confidential, Conspiracy Theory, and Mystic River. Gibson carries the film, but Helgeland's direction and the cinematography combine to make this a memorable comic sleazefest
Clintus Maximus
Super Reviewer
½
"Not the best thriller I have seen Mel in. But he always does a great job in any role he plays. Revenge flicks are a bit of a favorite of mine. But this one lacked a lot in being interesting. I thought the story was just OK. It wasn't exciting enough. No thrills here. Just a mediocre revenge flick that could have been better with a more developed story line."
♥˩ƳИИ ƜѲѲƉƧ♥
Super Reviewer
OK can I just say firstly...Lucy Liu and her character, LOVE it! :D absolutely my kinda woman in every sense hehe Liu is soooo damn gorgeous. Right that's my little perversion out in the open and out of the way, yep I'm a fetish freak...deal with it. So apart from the delicious scenes with Liu what about the rest of the film? well its basically pretty darn good folks. In my view this is Gibson's last good film in an acting role, I also think its one of his best action thrillers too riding high alongside 'Lethal Weapon 1+2'. There is a quite different directors cut of this film which is suppose to be more straight forward, I cannot comment on that as yet but personally I have always liked this film and see nothing wrong with it really. Sure its a little cliched and you always know Gibson will win in the end but he does get knocked around allot which is reasonably surprising for the good looking 'hero'. Casting is great for all the characters here with a great slimy weaselly performance from Henry as 'Resnick', Paymer as the even more weaselly wet 'Stegman', Kristofferson is...well kinda as he always is and add some good backing in small roles from Bill Duke, John Glover and James Coburn, solid reliable casting there. Violence is hard fast and totally enjoyable without there being that much blood, but you know what's happening, its adult only and it rocks. Thing is its all quite believeable too, its not just ridiculous over the top violence with no sense of realism, it all works well along with Gibson's little traps and setups. I like the look of the film also, its almost in black and white, the picture is very bleak or washed out, kinda faded looking, shades of greys, blues, blacks and silver with not much else. Sounds odd but it sets the tone for the film whilst giving it some added class or distinction. You can't go wrong here really, think 'Riggs' outta 'Lethal Weapon' only he's more badass and the series of events he's involved in are more sensible and darker.
Phil Hubbs
Super Reviewer
Payback Quotes
There are no approved quotes yet for this movie.