The Mummy
(1999)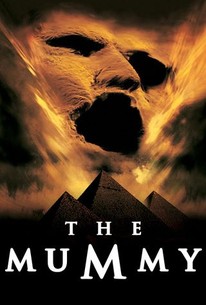 TOMATOMETER
AUDIENCE SCORE
Critic Consensus: It's difficult to make a persuasive argument for The Mummy as any kind of meaningful cinematic achievement, but it's undeniably fun to watch.
Movie Info
Loosely adapted from the classic 1932 horror film starring Boris Karloff, The Mummy is set in Egypt, where over 3,000 years ago the high priest Imhotep (played by Arnold Vosloo) was given the all-important assignment of preparing the recently dead for their journey into the afterlife. However, Imhotep made one terrible mistake - he became smitten with Anck-Su-Namun, the mistress of the Pharaoh himself. Driven mad by jealousy and love, Imhotep murdered the Pharaoh, and his punishment was to be buried alive and suffer the torment of an eternal life in his wretched tomb. In 1925, a band of adventurers seeking fame and fortune - led by Rick O'Connel (Brendan Fraser), an American expatriate who has joined the foreign legion, and Evelyn Carnarvon (Rachel Weisz), an amateur archeologist - find a previously unknown burial site in Egypt. The team starts to dig, hoping to find lost riches, but instead they disturb the tomb of Imhotep, and soon the cursed priest rises from his grave to wreck vengeance on humanity. The Mummy was written and directed by Stephen Sommers, whose previous cinematic journeys into the past include The Jungle Book and The Adventures Of Huck Finn. ~ Mark Deming, Rovi
News & Interviews for The Mummy
Critic Reviews for The Mummy
Audience Reviews for The Mummy
½
Great special effects, plenty of action and very funny to!
All the story ideas come from Universal's 1932 original version (and you've seen that, right? Right?), but the style comes from their follow-up sequel ... turned up to, say, eleven. Rousingly over-the-top (and still so entertaining) think Raiders Of The Lost Ark meets The Mummy to get the tone.
Kevin M. Williams
Super Reviewer
It may not have enough purpose to go along with it's silliness, and it may be a tad overlong, but "The Mummy" is a film that is easy and fun to watch. This is the definition of an adventure film. It has a few genuine jolts and the plot unravels throughout, in a good way, making this a very easy watch. There is nothing too complex or overdone about it, which is kind of what I was hoping for, but there are no real stakes aside from seeing if our main characters make it out alive, which in the end does not really matter, because they all pull of ridiculous stunts, making for a very far-fetched film. Besides all that, the film is well written for what it is, and put together very well. For it's running time, I was hoping for a little more, but it's a very fun ride!
The Mummy Quotes
There are no approved quotes yet for this movie.