Psycho
(1998)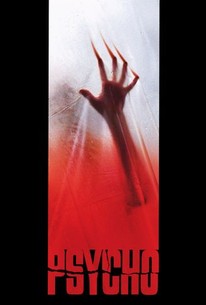 Movie Info
Marion Crane is a Phoenix, Arizona working girl fed up with having to sneak away during lunch breaks to meet her lover, Sam Loomis, who cannot get married because most of his money goes towards alimony. One Friday, Marion's employer asks her to take $400,000 in cash to a local bank for deposit. Desperate to make a change in her life, she impulsively leaves town with the money, determined to start a new life with Sam in California. As night falls and a torrential rain obscures the road ahead of her, Marion turns off the main highway. Exhausted from the long drive and the stress of her criminal act, she decides to spend the night at the desolate Bates Motel. The motel is run by Norman Bates, a peculiar young man dominated by his invalid mother. After Norman fixes her a light dinner, Marion goes back to her room for a shower....
Critic Reviews for Psycho
Audience Reviews for Psycho
½
Norman Bates: She might have fooled me, but she didn't fool my mother. "Check in. Relax. Take a shower." Not only is it argued that this Psycho is just a pointless remake of a brilliant classic; it is fact. There's no real reason for a shot by shot remake of Hitchcock's brilliant and influential piece of horror/psychological thriller history. As it is though, I still have a hard time hating it. It's well made, updated, and the theme of sexuality is more at the forefront, or at least more obvious. This is a movie that I neither like or dislike. It merely exists. Norman runs the Bates Motel, and when Marion Crane, a woman who has just run from Phoenix with $400,000, stops by, things get interesting. There's no point in really talking about the plot any further than that because if you've seen the original, it's the exact same and if you haven't, I wouldn't want to ruin it for you, but definitely check out the original because it is one of the best movies ever made period. I have a lot of respect for Gus Van Sant and the way he goes about making movies. He never expected this to be a well received movie, but it was a project that he personally wanted to do. You have to appreciate a filmmaker who is making films for himself and not a mass audience, and that is Gus Van Sant. So while I don't see a real reason for making this, I don't hate that he did. I don't believe he disrespected the original and if anything, it should serve as more of a tribute than anything.  Hate it or tolerate it, Gus Van Sant's Psycho exists. The cast is pretty good, besides the fact that I didn't love Vince Vaughn as Norman. The Rest of the cast is pretty much perfect though, especially William H. Macy as the private detective. So I'm not going to recommend this, but if you are a big fan of the original and of Van Sant, it's not as worthless a movie as everyone would have you believe.
Melvin White
Super Reviewer
Don't know why there's so much hate for this remake. Hitchcock was great, but there's nothing wrong with imitation if it freshens or adds new dimensions. As Mattheson said, "What is borrowed must be repaid with interest." Handel openly copied others' works to great acclaim -- even copying and reshaping his own earlier music. So did Mozart when he recast Handel's Messiah and Acis & Galetea. As did Brahms in his "remake": Variations on a Theme of Haydn. Or Benjamin Britten's A Young Person's Guide to the Orchestra (which "borrowed" it's theme from Henry Purcell). Even Alfred Hitchcock's remake of "The Man Who Know Too Much" was much better than the original -- directed 25-30 years earlier by Alfred Hitchcock! I'm just saying: lay off the hate. It's no insult to have a new approach to a classic...and it's a tribute to the quality of the original when a major artist (like Van Sant) remakes/revises a cinematic masterpiece.
Christian C
Super Reviewer
Horror fans really should thank Gus Van Sant for his experimental "copy exactly" approach to re-making the horror classic Psycho. Just modernizing the original with a bigger budget takes no creativity and falls into the tedium and redundancy which most horror fan's hate. Gus Van Sant's Psycho remake, where nearly every scene is "copied exactly," is a perfect example of this. It was simply BORING. Even for those that never saw this first, the pacing is just too slow for the high-octane generations of the 90's and beyond. For a re-make to resonate with an audience that knows the original by heart, it has to deliver a new and different version while staying within the bounds of the original framework. We should be thankful because no director will try this again. For the secret formula to successful horror re-makes, watch 2012's The Evil Dead, 2004's Dawn of the Dead or David Cronenberg's The Fly (1986).
Mark Beckford
Super Reviewer
Psycho Quotes
There are no approved quotes yet for this movie.