True Crime
(1999)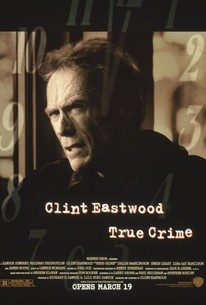 TOMATOMETER
AUDIENCE SCORE
Critic Consensus: True Crime has the potential for a gripping character-driven mystery, but a pedestrian story and a miscast Clint Eastwood undermine its effectiveness.
Movie Info
Steve Everett is an investigative reporter with a lot of problems. An alcoholic, he's only been sober for two months. An unrelenting womanizer, he's on the verge of being thrown out by his wife, Barbara. Thanks to his messy personal life, he was fired from the New York Times. He has since relocated to the West Coast and The Oakland Tribune. The move to the West Coast and the last-chance job haven't really influenced Everett's style much, which is infuriating to the Tribune's stiff-necked city editor, Bob Findley. Furthermore, Everett's unorthodox conduct has personal consequences for Findley. In fact, when Findley wants to send Everett on a particular assignment, the editor calls home and asks his own wife, who is in bed with Everett at the time, to please put Everett on the phone. Findley has made the call because another reporter, covering the impending San Quentin execution of convicted murderer Frank Beachum, has been killed in an automobile accident. The final interview with the condemned man has, therefore, been handed to Everett, who reluctantly begins to do a little research on the case, anticipating a routine story....Steve Everett, harried, hassled and trying not to self-destruct, has less than 12 hours to save the life of a man he knows is innocent.
Critic Reviews for True Crime
Audience Reviews for True Crime
½
A really powerful story about fighting to the very end and never giving up. Clint Eastwood of course does a great job as a womanizing hot shot reporter, but it's funny that he does it so well at 70. I really liked the draw in to the story, it wasn't sappy at all. They established a really great character with Isaiah Washington and made him seem like a true victim of circumstance. The redemption was really more for Clint Eastwood, who desperately needed to fix the mistakes he had made in the past.
Conner Rainwater
Super Reviewer
½
A distant relative of His Girl Friday, True Crime is about a reporter (Clint Eastwood) at the bottom of his career writing for a small news paper after botching a story. That's not his only problem, though. Steve (Eastwood) is a bit of an asshole. He lives for himself and his work, stopping to think about the consequences only after the deed is done. A set of circumstances leads to Steve being assigned a human interest story abut an inmate (Isaiah Washington) sentenced to death at midnight. While doing research for the piece it comes to light that the condemned man may be put to death for a crime he did not commit. This is a well made film that runs at a nice pace. The beginning and the middle run smoothly as Steve goes through his day. It's intriguing at how a story materializes for the reporter. Even the prison interview scene, the obvious cheese in a film like this, is actually well written and acted. The problem with the film is that the ending, though giving the audience the obvious tension, seems a little bit of a cheat and plays out a bit to cliched. Not on the part of the actual execution, but in the way the case is broken open. It soils a film that runs at a great pace through its first and second acts. It's not a typical Eastwood masterpiece, but it is an above average film that Eastwood tends to make when taking a break from his truly great works. It's a nice little thriller if you don't expect too much in the end.
Chris Garman
Super Reviewer
Very enjoyable drama about an innocent family man who's on death row. Can Eastwood interject and save the man's life or is he already too late?
Jason Owens
Super Reviewer
True Crime Quotes
There are no approved quotes yet for this movie.