Out of Sight
(1998)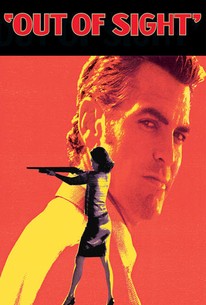 TOMATOMETER
AUDIENCE SCORE
Critic Consensus: Steven Soderbergh's intelligently crafted adaptation of the Elmore Leonard novel is witty, sexy, suprisingly entertaining, and a star-making turn for George Clooney.
Movie Info
Steven Soderbergh directed this crime caper adapted from the novel by Elmore Leonard. When ex-con Jack Foley (George Clooney) robs a bank, his car goes dead, and Foley lands in a Florida prison. His escape from prison doesn't go as planned, since it's witnessed by deputy federal marshal Karen Sisco (Jennifer Lopez). Foley's pal Buddy Bragg (Ving Rhames) intervenes, with the result that Sisco winds up in the trunk of the getaway car with Foley, and the two realize they're attracted to each other, despite being on opposite sides of the law. However, that doesn't stop Sisco from her mission to capture Foley, who has spent much of his life in prison. Flashbacks introduce Foley's fellow prisoners, including dim dude Glenn Michaels (Steve Zahn), violent Maurice "Snoopy" Miller (Don Cheadle), and insider trader and billionaire Richard Ripley (Albert Brooks), who talks too much about his wealth. This later leads to a break-in at Ripley's posh Detroit estate by Miller, his brother-in-law Kenneth (Isaiah Washington), and menacing White Boy Rob (Keith Loneker). While seeking a hidden safe, the group threatens Ripley's housekeeper Midge (Nancy Allen). Foley and Bragg are in on this operation, but they wind up outwitting the others, and Sisco is close on their trail. The film features uncredited cameos by Michael Keaton and Samuel L. Jackson, and was shot in locations in Florida, Louisiana, and Michigan. ~ Bhob Stewart, Rovi
News & Interviews for Out of Sight
Critic Reviews for Out of Sight
Audience Reviews for Out of Sight
There are many aspects making this a highlight of the genre. Steven Soderbergh's flawless directing, the editing and the wonderfully complex storytelling on two time levels, that surely requires some concentration to follow. His interesting choice of colors, differing between the warm tones of the hot Florida sun and then the switch into cold, blue and white Detroit, where red only reappears in the shape of blood. The smart, witty, sometimes funny, sometimes brutally violent script that includes dialogs you wanna learn by heart. An awesomely grooving and cool Soundtrack by David Holmes. And a cast to dream of down to the smallest roles, most of the actors giving the performance of their lifetime: J.Lo is hardly recognizable as the irrelevant pop singer of recent years, doing a great job as a female cop tempted by the attracting opposites of bank robber George Clooney, who was never better than here. Their chemistry is a big part of what makes this movie work, especially the hotel bar scene and its continuation contains more sparks than some movie years combined. Don Cheadle as a dangerous gangster, Steve Zahn as petty crook, Ving Rhames as calm and reasonable sidekick, Dennis Farina as amused and amusing father or Samuel L. Jackson's wonderful cameo in the last minute of the film: perfect choices all around. Michael Keaton simply walking into this film as the same character he already portrayed in Tarantino's Jackie Brown (also based on a Elmore Leonard book) as if that was the most natural thing ever is another highlight. No, I can't decide what to bring up first, but it all combines into a crime thriller romance that is pretty much perfection and one of masterpieces of the 90s.
Elmore Leonard had been writing crime and western novels as far back as the 1950's and has had numerous adaptations of his work: Paul Newman in Hombre, Clint Eastwood in Joe Kidd and Charles Bronson in Mr. Majestyk are just some of the more familiar ones. However, around the mid 90's there was somewhat of a reinvestment in his work. After the release of Quentin Tarantino's hugely influential Pulp Fiction in 1994, crime became cool again and Elmore Leonard became the go-to guy for the material. John Travolta would follow-up Pulp with an adaptation of Leonard's Get Shorty and Tarantino himself adapted Rum Punch into Jackie Brown. There were other TV Movies like Gold Coast and Pronto, Paul Schrader's misjudged Touch and the short lived TV series Maximum Bob. Steven Soderbergh then rounded them off with this stylish film that, arguably, handed George Clooney the first role that suited him as a fully fledged leading man. Jack Foley (George Clooney) is a career bank robber that's done his fair share of jail time. After a recent breakout, he heads for Detroit to pull off his final job by relieving tycoon Richard Ripley (Albert Brooks) of his uncut diamond stash. However, Foley has to contend with other ex-cons with the same idea while evading the law and his infatuation with US Marshall Karen Sisco (Jennifer Lopez). Opening with the most remarkably cool and composed bank robbery you're ever likely to see, it's clear from the offset that Soderbergh and Clooney are on very fine form. The mood is also helped by an excellent score by David Holmes that taps into a 70's caper vibe while Soderbergh employs a whole host of stylistic, directorial flourishes; he cleverly plays with the time frame throughout the narrative with complex use of flashbacks and freeze frames and puts a fresh spin on film noir. Anyone familiar with Leonard's novels will be fully aware of his colourful characters and sharp, snappy dialogue. In bringing them to the screen, Soderbergh assembles a rich gallery of performers; despite Leonard envisioning Jack Nicholson or Sean Connery as Jack Foley when he sold the film rights of his novel, it's a role that fits Clooney like a glove. He brings the requisite charm and charisma and it remains one of his most perfectly suited roles to this day. He's accompanied by a stellar supporting cast too; Jennifer Lopez is not normally someone I'd rate very highly but she delivers some strong work as the doggedly determined Federal Marshall and shares great chemistry with Clooney. Ving Rhames brings his usual reliability as Foley's right hand man, Buddy Bragg while Steve Zahn adds welcome comic relief as stoner, Glenn Michaels. It's the dialogue and interplay between all of these characters that's one of the films major highlights and it provide numerous light, entertaining moments. However, these moments are balanced out with a well judged element of danger. For the most part, the personalities seem flawed and comical but Don Cheadle's chillingly psychotic Snoopy Miller, in particular, is a sobering reminder of what's at stake and what some of these career criminals are capable of. Despite the story predominantly taking place amongst unsavoury criminals, you could say that this is as much as a romantic drama as it is a crime drama and Soderbergh handles them both (and the comedy elements) with a deftness. The non-linear approach demands a certain concentration as it zips back and forth while teasingly bringing everything together. When you talk about the post-modern cool of 90's crime movies then this is certainly worthy of inclusion. Crime may be the angle of it's characters but the real crime was this being overlooked upon it's release. It didn't do well at the box-office and many have yet to still uncover this gem. Having been well versed in the work of Elmore Leonard over the years, I have to say that Soderbergh and screenwriter Scott Frank do an exemplary job here. Adaptations of Leonard's work have rarely been better. Mark Walker
Mark Walker
Super Reviewer
Of Steven Soderbergh's more well known films, I can't believe it took me so long to finally see this. Based on a novel by Elmore Leonard, this is the story of Jack Foley and Karen Sisco. They have a chance encounter (one of the more unique 'meet cutes' in cinema) that sees them trying to have a romantic relationship with one another. There's a big problem, though, and that is the fact that Jack's a career bank robber who has just broken out of jail, and Karen's a deputy federal marshal who just stumbled right up onto the escape attempt. The two have an undeniable attraction to one another, and that's a big part of the fun and charm of things, especially since the two are so committed to their polar opposite lifestyles. Even as Karen is hot on Jack's trail as he goes out for more capers, they manage to try to make their conflict work. Leave it to someone like Leonard to come up with a genius premise like this, and people like screenwriter Scott Frank and Soderbergh to craft such a solid adaptation. The film is a tad more mainstream as far as Soderbergh's work is concerned, but that's not really a bad thing. It doesn't feel like an average mainstream romance/caper comedy, and that's maybe the strongest thing about it. It's got his trademark sense of style and super cool vibe, and the heavily funky soundtrack is quite slick as well. All of this is highlighted by the performances by an ensemble cast of very well known performers. Jennifer Lopez is surprisingly strong as Karen, and Clooney is in typical top notch form as Jack. These two are really likable, smart, and fun to watch, Their chemistry, and the chemistry with the rest of the cast is remarkable. And speaking of the rest of the cast...Ving Rhames (in some slick spectacles), Don Cheadle (good funny/scary), Albert Brooks, Steve Zahn (very funny, here), Catherine Keener, Luis Guzman, Dennis Farina...and smaller appearances by Michael Keaton, Nancy Allen, Viola Davis, and Samuel L. Jackson. All in all, the film is very well made, and quite entertaining, but it is admittedly rather overrated. It didn't come off as all that groundbreaking to me, though it may have been so when it came out. I really liked it, but I think in the end it's just shy of the top tier of Soderbergh's work.
Chris Weber
Super Reviewer
Out of Sight Quotes
There are no approved quotes yet for this movie.