Mr. Nice Guy (Yat goh hiu yan)
(1997)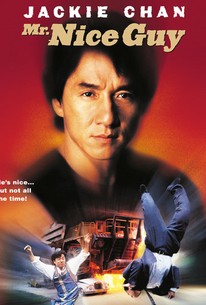 Mr. Nice Guy (Yat goh hiu yan) Photos
Movie Info
In this riotous martial arts comedy, energetic Jackie Chan plays a naive television chef who accidentally comes into possession of a videotape containing incriminating evidence for a powerful crime lord.
Critic Reviews for Mr. Nice Guy (Yat goh hiu yan)
Audience Reviews for Mr. Nice Guy (Yat goh hiu yan)
When it comes action movies Jackie Chan is the one of the only actor I always know could be fun, even if the movie bad. Thanks to Jackie likability, humor, and martial art skills I was able to get through this. Mr. Nice Guy is about a Chinese chef who accidentally gets involved with a news reporter who filmed a drug bust that went awry and is now being chased by gangs who are trying to get the video tape. I should say this movie has little to no story to tell, literally the first forty minutes of the film had no story. Those forty minutes had a our characters running away a lot and served no purpose at all the movie. Speaking of purpose, Chan has the only character that has any significance in the movie since he's the closest you'll have to a character. Chan is literally the only character in the movie, aside from the villain, every character has nothing to offer to the story. I also find it weird that the videotape has a scene from earlier in the movie and yet it appears the same in the tape despite the news reporter only filming it from one angle. Believe it or not this movie has filler despite it short length, it's most notable when you have Sammo Hung appear on screen, four times. Seriously his cameo was way to long just like the filler in the movie. I would go more in depth about the lack of story in the movie, but there's not much to talk about. Chan humor and talents got me through this horrible flick. He's a decent actor in this flick and his bad English is forgivable since he's the only likable person in the whole movie. Now the choreography was amazing and Chan fight in a construction site and on a moving chariot are easily some of his best work. The acting is horrible, you literally build a bridge by most of the actor wooden acting. The acting wasn't what I hated the most, it was the appalling editing. The opening of movie has our villain telling a woman she's beautiful and then drowning her and came out in a comedic way. I also hated how much unnecessary slow motion was used. I would blame Sammo Hung for his poor direction and lacking of ability to tell a story, but his actors are blame with the exception of Chan. Mr. Nice Guy only redeeming value is Jackie Chan and unfortunately he was unable to save the movie. Chan is very enjoyable in this movie, the movie itself on the other hand is a pointless sit through.
Caesar Mendez
Super Reviewer
I like Movies with Jackie Chan they are really funny and sometimes senti and all that, but sometimes I wish he would play in the movie which are less with Kungfu and more comedy.
½
Jackie is the best on a non-stop, action ride that never slows down for morality plays, character development, romance or a complex storyline. I watched his acting and filming located at my hometown, Melbourne.
Dean McKenna
Super Reviewer
Mr. Nice Guy (Yat goh hiu yan) Quotes
There are no approved quotes yet for this movie.