Merlin
(1998)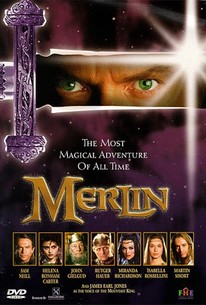 Movie Info
This four-hour fantasy miniseries, elaborating on the Arthurian legend and filmed in England and Wales, offers a portrait of the wizard Merlin (Sam Neill), following his life as a youth (Daniel Brocklebank) to his later conflicts with the evil Queen Mab (Miranda Richardson) and his love for Nimue (Isabella Rossellini), who is kidnapped by Lord Vortigern (Rutger Hauer). Amid battles and displays of magic and mysticism (courtesy of London's Framestore and the Jim Henson Creature Shop), Merlin strides the English countryside encountering Excalibur, the unbreakable sword, and a Camelot cast of colorful characters including the morphing manservant Frik (Martin Short), Morgan le Fey (Helena Bonham Carter), King Arthur (Paul Curran), Lancelot (Jeremy Sheffield), and Guinevere (Lena Heady). Premiered April 26, 1998 on NBC. ~ Bhob Stewart, Rovi
Critic Reviews for Merlin
Audience Reviews for Merlin
½
Sam Neill grouses his way through this infectious (if slow and overlong) telling of Arthurian legend from the perspective of it's purported instigator. He only seems to relax whenever Isabella Rossellini's around, I don't know why. Magical fun, despite the miscasting of Martin Short. And Miranda Richardson carries the whole thing home.
Kevin M. Williams
Super Reviewer
A pretty good made for tv movie. I liked it.
Jason Spencer
Super Reviewer
I loved it on t.v., but it's been too long, I need to see it again.
Curtis Lilly
Super Reviewer
Merlin Quotes
There are no approved quotes yet for this movie.