Fall
(1997)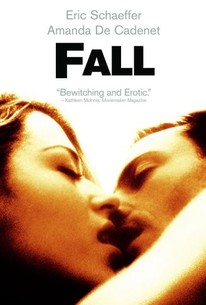 Movie Info
In this romantic comedy drama, a mismatched couple (who aren't as mismatched as they believe) are brought together by fate and have to decide if they should stay together. Sarah (Amanda DeCadenet) leads a charmed life: She's a supermodel widely regarded as the most beautiful woman in the world, she's a multimillionaire, and she's married to a wealthy European aristocrat, Phillippe (Rudolph Martin), whom she loves deeply. So when Sarah hails a cab and the driver, Michael (Eric Schaeffer), tries to pick her up, it's no surprise that she's not interested. But fate keeps bringing Sarah and Michael together over the next few days, and eventually the witty and charming cabbie wears down her resistance. They end up back at Michael's apartment after sharing dinner together, and before long, the two are engaged in an extended and highly passionate lovemaking session. It turns out that not all is as it seems; Phillippe has lost interest in Sarah, sexually despite her love for him, and Michael is not just a cab driver, but a once-wealthy and famous author who chose to retreat from the limelight. Racked with guilt the next morning over her infidelity, Sarah tries to convince Michael that they should remain friends and nothing more, while he is convinced that he's met the love of his life. Eric Schaeffer wrote, produced, and directed Fall, as well as played Michael.
Audience Reviews for Fall
Fall is a raw and sensual romantic drama that lacks passion. The story follows a New York City cab driver who pursues a supermodel after they have a chance encounter. Eric Schaeffer and Amanda De Cadenet lead the cast, but they don't have any chemistry and their performances are rather weak. The writing tries too hard to be witty and insightful, and ends up feeling superficial. Schaeffer's directing is also poor, and does nothing to enhance the themes of the film. Though the execution fails, Fall is a provocative film that has some interesting things to say about relationships.
Dann Michalski
Super Reviewer
Fall Quotes
There are no approved quotes yet for this movie.