The Peacemaker
(1997)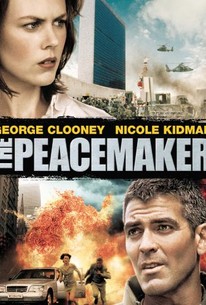 Movie Info
Macho maverick field colonel Thomas Devoe (George Clooney) and White House nuclear expert Julia Kelly (Nicole Kidman) team up to save Manhattan from a crazed terrorist who is threatening to blow up Manhattan with one of nine stolen Russian nuclear warheads unless the world pays more attention to the plight of people in Bosnia. First time feature film director Mimi Leder uses her experince helming episodes of the fast-paced NBC medical drama ER to create nonstop action sequences that begin with a train wreck and a nuclear explosion and do not end until the protagonists have chased their quarry around the world. The story's exciting climax occurs on the streets of East Manhattan.
Critic Reviews for The Peacemaker
Audience Reviews for The Peacemaker
A pretty good film really good action packed film and good performances
Film Crazy
Super Reviewer
Today, when we're used to set high standards to action movies, and usually be satisfied with the end result, "The Peacemaker" just doesn't fit the picture of a high-class action thriller. The story develops fast, which is a good thing. It's just another manhunt for some terrorists, who are, suprise, from Russia. Some twists and turns and the end credits start to roll. So no originality here. There's a lot of action in the movie but it's just not that exciting. The production values have increased in the last 10 years but nevertheless, better action movies were made at the same time as "The Peacemaker". George Clooney in the male lead is just horrible. Don't get me wrong, I like Clooney and he has made several good performances after this movie. He just doesn't seem to fit the role. All the stupid grins and head shaking... Nicole Kidman in the female lead gives a mediocre performance. But what an iron lady! When Clooney's character is puffing his lungs out, Kidman acts like nothing remotelly to running ever even happened. Could've worked 10 years ago when I saw it for a first time but now... You'll just get disappointed.
An expertly crafted and superb thriller. A smart, thrilling, well-paced and action-packed thrill-ride. It explodes with white-knuckle tension, drilling suspense and teriffic speacial-effects. A story thats solid, intelligent and energetic all the way through. George Clooney and Nicole Kidman are perfectly matched. A breathtaking, gripping and riveting edge of your seat thriller.
The Peacemaker Quotes
There are no approved quotes yet for this movie.