The Assignment
(1997)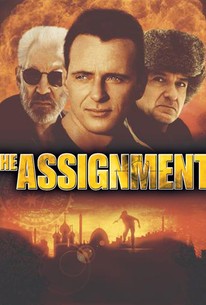 Movie Info
In this drama, a naval officer named Annibal Ramirez (Aidan Quinn) is vacationing in Israel when he's arrested and questioned by Israeli agents, led by Amos (Ben Kingsley). Unknown to Annibal, he bears a striking resemblance to Carlos Sanchez (also played by Aidan Quinn), a famous and feared international terrorist wanted in several nations. Jack Shaw (Donald Sutherland) is a CIA operative who witnessed one of Sanchez's most brutal attacks in the 1970s and is obsessed with bringing him to justice. Shaw persuades Ramirez to join his team and to pose as Sanchez, convincing the nations who work with him that he's an unreliable traitor. While this would give Ramirez a chance to serve his country, it would also take him away from his wife Maura (Claudia Ferri) and his children, not to mention putting his life in grave danger. Carlos Sanchez was the name of an infamous terrorist (also known as "The Jackal") who was active in the 1970s and 1980s; while the "Carlos Sanchez" character is based on his fearsome exploits, the rest of the story is fiction.
Critic Reviews for The Assignment
Audience Reviews for The Assignment
(1997) Here' the movie that got away....just saw this a couple of months ago and felt it was incredibly riveting, especially for being 14 y ears old now!! They say for each one of us there is a dopple ganger.....and (Aidan Quinn) is just that, a dopple danger for one of the world's most notorious terrorists. Ben Kingsley co-stars in a believable role as Amos, an Israeli C.I.A. agent, who first encounters "Annibal Ramirez" aka "Carlos' double" while he is on leave in the Middle East...



Donald Sutherland lends some bitter but human C.I.A. reality to the morphosis of Quinn into his notorious dopple ganger, "Carlos."
½
This is a suspense thriller involving spies, lies, and the one and only CARLOS. The film stars Aidan Quinn in a juicy dual role, playing a United States Naval Officer named Annibal Ramirez, and the antagonist, the mysterious and notorious terrorist named Carlos. CIA man Jack Shaw (Donald Sutherland) masterminds a plot to get Carlos when he stumbles upon Quinn who is a dead ringer for the Carlos. Well executed and well acted with an intriguing plot and superb performances from all the leads; a brilliant combination of Aidan Quinn, Donald Sutherland and Ben Kingsley. A really tight film that shouldn't be overlooked! Recommended for espionage or thriller fans... Rated R (for violence, language, fairly graphic sex scenes & nudity)
½
Excellent CIA thriller, even though this is from the 1997 time frame, its still got plenty of action, and at the end of the movie when the KGB raids Carlos's home, it shows some pretty cool spy devices that are still in use today, ask any Swat Team Member. Reason I rented it is because it was on a 1997 Toronto International Film Festival List and I am reviewing all those movies as time permits. This movie has plenty of action and I feel that Aidan Quinn, Donald Sutherland, and Ben Kingsley played excellent parts. The Movie shows a part that?s supposed to be a Naval Officers house in Norfolk Virginia, sorry but their are no background mountains in Norfolk Virginia unless you count Mt Trashmore. But its an excellent movie with good chase scenes and stunts, A real life adventure, based on a real story. 5 Stars nothing less.
Bruce Bruce
Super Reviewer
The Assignment Quotes
There are no approved quotes yet for this movie.