Steel
(1997)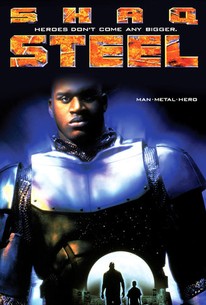 Movie Info
Low-rent, poorly-lit superhero action is the order of the day in this film from television director Kenneth Johnson -- who makes several references to his series Alien Nation throughout the course of the movie. NBA basketball superstar Shaquille O'Neal stars as John Henry Irons, a weapons designer and metallurgical genius who is developing a new sonic weapon for the military with the help of Sparks (Annabeth Gish), a computer whiz. When an accident caused by unscrupulous superior Nathaniel Burke (Judd Nelson) leaves Sparks paralyzed, Irons quits his job in disgust. It turns out later that Burke has begun mass-producing the weapon and selling it to terrorists and L.A. street gangs, so Irons and Sparks team up with Uncle Joe (Richard Roundtree), a junkyard artist, to create a suit of armor and a gadget-packed sledgehammer. Irons dons the suit and becomes known as the superhero Steel, who kicks criminal posterior all over the city with his impenetrable get-up and high-tech gizmos. Before long, Burke's comeuppance is in the offing. Although specific references to it were excised between the source material and script, the original DC Comics version of Steel was a spin-off of the Superman comics series. ~ Karl Williams, Rovi
News & Interviews for Steel
Audience Reviews for Steel
½
This movie was...Okay. It certainly wasn't good, but it wasn;t too bad either. Shaq can't act, no more than he can shoot a decent free throw, but there was still some good. But as always, we begin with the bad. The basketball puns in this movie were just PAINFUL PAINFUL PAINFUL!!! For example, there is one scene where Shaq has too shoot a grenade throw a hole in the wall with unlimited time and no one guarding him. GEE, I WONDER WHAT THAT MEANS. OUT OF ALL THE BASKETBALL PUNS, IT COULD BE ANY!!! Then there was the acting. Shaq, of course, was pretty bad, but the villain was pretty bad too. I also didn't like the acting of the annoying kid. Just attrocious. There was good though. The special affects in this movie had too be good to make up for the fact that Shaq played the main character, and they were. I felt like I was watching a Terminator film! Particulary the hammer. I lied the costume too, even if the entrance was a little dumb. The plot was pretty good too, for a Shaq movie. It's kind of like Iron Man, but I don't really want to explain it. This movie isn;t perfect, but it isn't horrible. In my opinion, it's smack dad in the middle.
Marc Lewis
Super Reviewer
½
About the same as Kazam in terms of quality, this is basically the poor man's Batman, even circa '97. Again, it has a bizarre unintentional comedy element to it that makes it worth watching. This has too many seriously toned moments though, which makes it tough to even get through. Poor Shaquille O'Neal really wanted to be a movie star.
Conner Rainwater
Super Reviewer
im pretty sure the words "What? you've never seen Steel?" have never been blurted out before.
Coxxie Mild Sauce
Super Reviewer
Steel Quotes
There are no approved quotes yet for this movie.