Volcano
(1997)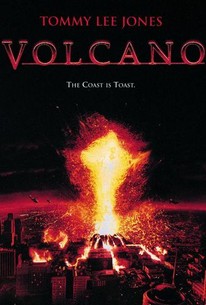 TOMATOMETER
AUDIENCE SCORE
Critic Consensus: Volcano's prodigious pyrotechnics and Tommy Lee Jones' crotchety sneers at lava aren't quite enough to save this routine disaster film.
Movie Info
Disaster visits jaded L.A. in the form of an underground volcano, not the big earthquake all the citizens expect. Shot on the largest set ever constructed in the U.S., in nearby Torrance, California, Volcano is a big-budget, special-effects-laden disaster movie with a standard plot. Tommy Lee Jones plays Mike Roark, a by-the-book emergency management director who is spending the weekend with his daughter, Kelly (Gaby Hoffmann), when the previously-unknown volcano blows. Sassy, brainy scientist Dr. Amy Barnes (Ann Heche) is the first to warn of the threat, which begins by sucking one of her co-workers into a steaming fissure. As the lava starts to spurt in red-hot fireballs, Kelly is injured, and Mike sends her to the hospital in order to attend to his duties, rescue citizens, and run the city's emergency response. Eventually, Roark and Barnes team up to battle the eruption while sparks of romantic attraction fly. ~ Michael Betzold, Rovi
Critic Reviews for Volcano
Audience Reviews for Volcano
The second volcano disaster film released in 97 and clearly a different tone, didn't do as well as 'Dante's Peak' and its easy to see why. First off the plot, like most all disaster films, is completely identical to that other volcano film. This film kicks off almost straight away with the action and pending volcano but overall its all the same. Simply replace Brosnan with Jones and the fact no one believes him until it just darn too late. From there on the film becomes a ludicrously silly action/thriller which really should be titled 'Lava' as that's all its about, you only see the small volcano for a few shots. You can look at this film as more of a blockbuster 'arcade' type as its not very realistic and overly flashy. Sure its got everything you would expect in a disaster film including the heroic sacrifice, obligatory dog, a few people being melted away in lava (had to have that!) but it also has so much cheese. The forced racism sub plot between a white cop and black youth who at the end make up and help each other seemingly vanquishing the hatred? OK its a good sentiment but holy crap its lame. The film progresses ever predictably towards its ever so obvious happy ending as downtown LA melts n bubbles away. You just move from one catastrophic setup to the next, some with your typical heroic bookend and some with your typical emotional bookend. The effects are pretty good in places yes, gotta give the film that, the lava does look pretty hot and you do get a good sense of sweltering sheer heat from the action. The final finale is an utter ridiculous joke that simply doesn't help the film a tall. The way they solve the problem in the time they have is just plain comicbook stuff, add to that the over the top end sequence for Jones which is laughable. Luckily the solid Tommy Lee saves the film from utter B-movie obscurity with his craggy features. Nowhere near as good as 'Dante's Peak' and nowhere near as accurate with the facts. Not a total problem as we know off the bat this ain't no serious flick. Unfortunately you can't help but compare it to the superior earlier volcano flick which ticks all the right boxes including realism and thrills. End of the day this just feels like some Hollywood suit thought how cool it would be to see how much destruction and mayhem there would be if you moved a volcano from way out in the wilderness to a major city. Yeah we can cause lots of shit to blow up and melt in a city!.
Phil Hubbs
Super Reviewer
½
Volcano is a decent disaster film with a good cast. Continuing the trend of epic disaster films, Volcano though engaging and somewhat entertaining and fun. However the film could have been much better than this and the film relies on clichés from the genre to establish its story. Volcano is entertaining, and is a decent disaster film; however it fails to do anything new or exciting with the genre. I mean the film is basically Dante's Peak in Los Angeles. There's a good cast here, and they manage to keep Volcano from being a total dud. I enjoyed the film, but the film could have been much better and the film does lack a bit, and leaves a lot to be improved on. Volcano can be viewed as a popcorn flick and nothing more. There's enough thrills here to be entertained, but the film could have been done much better. There are some cool special effects, but the film does lack in substance and effective story buildup. Some disaster films work well, but other scrape by, and this is one that almost becomes a dud. However there are enough good elements to make the film watchable and it's a decent action/disaster film for what it is. However if you want the better volcano disaster film, watch Dante's Peak instead. Volcano is a decent, entertaining film, but it could have been a much better film as well. I think that the plot was good, but needed to be a bit more developed; luckily the cast saves it from a total mess. A decent film to watch, but nothing ever great.
The idea of volcano destroying the city was great. But representing the idea wasn't that great. Some of the scenes seemed a bit weird to me: Why was Kelly Roark (Gaby Hoffmann) was still standing when the lava was coming straight towards her? I mean any person who have common sense would try to run away from it, right? Okay I do get it that the story line tells us that she will have to be in that place where the lava will attack in the end. But they should have think of some other ideas to get her injured instead of that. Another scene that caught my eyes was: How could Dr. Amy Barnes (Anne Heche) saw Mike Roark (Tommy Lee) from being so far? No matter how serious it seemed, I laughed at that part. It's like her eyes were working as binocular. I think this movie was okay. Watchable.
Dead Angel
Super Reviewer
Volcano Quotes
There are no approved quotes yet for this movie.