Private Parts
(1997)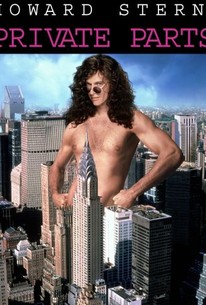 Movie Info
Radio talk-show host Howard Stern is a cultural phenomenon of the '90s. Loved and hated by fans across the country, he gleefully exceeds the boundaries of good taste on his New York-based radio show. This film is based on Stern's autobiography and presents a somewhat sanitized version of the notorious "shock-jock."
News & Interviews for Private Parts
Critic Reviews for Private Parts
Audience Reviews for Private Parts
Pig Vomit: You're the anti-Christ. You know that, Stern?  You are the mother-fucking anti-Christ! "Never before has a man done so much with so little." Having just read Howard Stern's autobiography, Private Parts, which I enjoyed a lot, I thought it a good idea to watch the film adaption. Private Parts is a hilarious and well made movie, which stays pretty true to the life story of Howard Stern. We all know who Howard Stern is. He's the "shock jock" that revolutionized talk radio. Love him or hate him, you gotta respect him. He gives no fucks and says what he wants. He talks like every single guy does when they're with their close buddies, except he does it on a large platform and he doesn't apologize for it. The life of Howard Stern from the early years as he was getting yelled at by his father constantly through his puppeteering days through his "high " school paranoid days through his striking out days and finishes with him being the number 1 DJ in New York. We see him marry his dream girl, fly into the MTV awards as Fartman, and tussle with the arrogant heads of NBC radio. It's glorious. Howard Stern plays himself, Robin Quivers plays herself, and Fred Norris plays himself. We also get Mary McCormack as Stern's wife Allison, and a hilarious role from Paul Giammati as Pig Vomit. There's also a lot of cameos, such as Ozzy Osbourne, Mia Farrow, and AC/DC. What's not to like? For fans of Howard Stern, this is an absolute can't miss. For haters of Howard Stern, you may still like it. I don't really consider myself a fan or a hater. I like the man to an extent because I respect that he his anti-hypocrite and just doesn't give a fuck. He comes off to some as racist and sexist, but in reality, all he is doing is giving the people what he wants. It's a brand of humor that isn't for everybody, yet everybody will listen just to see what he says next. His genius is in just how polarizing he is, and this movie shows that to near perfection.
Melvin White
Super Reviewer
½
A comical and autobiographical account of the real life of Howard Stern, this film is both gross and sentimental. Strangely compelling and enjoyable to watch almost throughout, Stern is very truthful in his depiction, as himself, portraying himself and narrating the entire film. The premise of the film came from Stern's acclaimed book of the same name and is just as juvenile and yet fresh as his early days in radio. Stern is impressive in the film, as well as much of his cast, who also went through the actual events of the film. His infidelity, workaholic status, his wife's resilience in the face of his outspokenness, and his love for his family are all compounded into an actually watchable film. I don't generally agree with the views and some of the humor Stern exhibits, not because of its crudeness but its inability to make me laugh. Stern still uses his usual brand of humor in this film, but because he was up against censorship and the network's forbearance it was almost inspiring to watch bare chested women bounce onscreen. More importantly, there wasn't any glossing over of what Stern is, and the differentiation of himself and his persona in the public light. What struck me as unsatisfying and hollow was the fight against the station and his own struggles with his wife. Stern paints himself as the rebel against tyranny while being anticlimactic and clumsy. Yes, there's a brief power struggle but then he gets higher ratings and everything evidently works out. I didn't laugh except during brief parts which usually have nothing to do with crass humor and all to do with the romanticism of his life and his self-deprecation. Our favorite shock jock shows himself in a whole new light, and though today Stern is divorced and remarried, his love for his wife is one that is rarely seen in such a tender way.
Spencer S.
Super Reviewer
½
Private Parts is a film based on the life of Howard Stern. The basis for this film was his autobiography, Provate Parts, which I preferred to this film. But the film manages to be a good comedy about Stern's rise in the radio industry. As a person who studied in radio, I of course enjoyed this film, and in many ways inspired my decision to study radio. Howard Stern and his crew plays themselves and do it well. The cast alongside Stern are good and very entertaining too. Private Parts like Sterns radio show is a lot of fun, with many humourous bits but at times uneven. The film succeeds at being funny but Stern's book was better. Fans of Howard Stern will most likely enjoy this film as it is fairly well done. Private Parts is a good comedy and considering that Stern plays himself, its a big plus. Paul Giamatti plays a young executive at WNBC and tries to control Howard Stern, but Stern becomes more and more popular. As the film unfolds, we get to see Sterns brand of shock radio reach popularity. The film is very funny and also interesting because it shows how Stern became one of the biggest names in radio and pioneered a new form of radio: Shock Radio. People hate Howard Stern, but those who hate and love him can't deny the influence he's had on radio. This film shows that, and is a very entertaining film too. As a radio broadcasting graduate, I thoroughly recommend this film.
Private Parts Quotes
There are no approved quotes yet for this movie.