Freeway
(1996)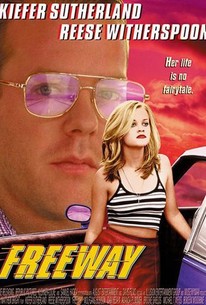 TOMATOMETER
AUDIENCE SCORE
Critic Consensus: A modern update on the tale of Little Red Riding Hood, Freeway is an audacious black comedy with a star-making performance from the young Reese Witherspoon.
Movie Info
In this postmodern exploitation flick loosely based on "Little Red Riding Hood," the uneducated daughter of a drug-addicted prostitute flees the foster-care system in search of her long-lost grandmother but meets up instead with a serial killer. Vanessa (Reese Witherspoon), a nearly illiterate firebug and serial shoplifter, desperately clings to normalcy even though her mother turns tricks, does drugs, and manages to ignore the fact that the girl's stepfather Michael T. Weiss has been abusing her for years. When both of her parents get arrested, Vanessa steals the car of her family-services caseworker (Conchata Ferrell) and heads up Interstate 5 in search of her paternal grandmother, who's never met her. Car problems force her to accept a ride from Bob Wolverton (Kiefer Sutherland), a youth counselor who uses charm and sympathy to get the girl to open up. Confessing the sordid details of her childhood to Bob, Vanessa is shocked when he suddenly declares that she's one of the "garbage people" and that he plans to murder her and have sex with her corpse. Bob, it turns out, is the "I-5 Murderer," who's been slaughtering young prostitutes in the Los Angeles area. Thanks to a gun borrowed from her fiancé, Vanessa manages to turn the tables on Bob, shooting him repeatedly and leaving him for dead. He survives, Vanessa is arrested, and the two meet up again in court -- with her unrepentant, even though the police disbelieve her story, him flanked by his prim wife (Brooke Shields) and the righteous indignation of the American legal system. Locked up in the juvie for psychological evaluation, Vanessa gets in touch with her wild side and eventually escapes, heading off to her fateful meeting with grandma. Although Freeway was originally filmed for HBO, vigorously positive critical response eventually earned it a theatrical release. Alanna Ubach, who portrays Vanessa's nemesis/accomplice Mesquita, would go on to appear with Witherspoon in Legally Blonde. Freeway also features two Clueless alumni: Dan Hedaya, as a police detective, and Brittany Murphy, as the disfigured lesbian who befriends Vanessa in lock-up. Michael T. Weiss, who previously appeared in gay indie Jeffrey, appears in both Freeway and its sequel, Freeway 2: Confessions of a Trickbaby.
News & Interviews for Freeway
Critic Reviews for Freeway
Audience Reviews for Freeway
Vanessa Lutz is a nearly illiterate, poor, and troubled California teenager with a really awful back story which includes all kinds of abuse and criminal behavior. After her mother and stepfather (also very sketchy and tainted) are arrested, she decides to escape the thought of foster home life and strikes out across I-5 to the home of her grandma, whom she hopes will help her get a far better life in this sick, twisted, and really snazzy take on Little Red Riding Hood. This is one of the more depraved and messed up movies I've ever seen, but it's actually quite enjoyable, done really well, and makes for good watching once you realize that it is clearly a VERY tongue-in-cheek satire. I mean if Siskel and Ebert can give it two thumbs up, then that lets you know right there this movie must be doing something right. What makes it all work are the performances and the tone. Tone can be a really tough thing to get right, especially when you blend the lurid with a dark sense of humor, but Matthew Bright pulls it off pretty nicely here. The performances are quite over the top, but you can tell the actors are having a lot of fun, and Reese Witherspoon really shines as Vanessa. Kiefer Sutherland is fantastic as the menacing Bob Wolverton, and they are joined by all sorts of notable names such as Brooke Shields, Dan Hedaya, Brittany Murphy, Amanda Plummer, and Conchatta Ferrell among others. These are all wildly colorful and interesting characters, and I just love how the film makes it hard for the audience to choose who to root for at times. The music is quite twisted and cool, the film definitely has the most unique take on a classic, and it succeeds in getting a point across while pleasing exploitation fans. So, if you have an open-mind and want to see something that is really screwed up but still has merit, then definitely give this a look..
Chris Weber
Super Reviewer
It's hard not to love Reese Witherspoon in anything. This film was mad, crazy, over the top and at times quite hilarious. It's a great modern version of 'Little Red Riding Hood' and even though the ending is predictable, you can't help but like it and you end up rooting for little old Vanessa despite her troubled mind. Even more so because a girl with such a tiny frame was beating up men and genuinelly making them terrified of her. Some scenes shock you and most scenes are unpredicable apart from it's ending. It's a weird yet wonderful film.
Bethany Murphy
Super Reviewer
½
Based on the classic Grimm Brothers tale, Little Red Riding Hood; Freeway is the disjointed and frankly weird odyssey following a young girl on the way to her grandmother's home. The film begins much like any other hitchhiking film, with a young girl being picked up by a slightly sinister driver. However, you won't be able to predict where it's going to go from there, as Freeway continually puts its characters in absurd situations and delivers the unexpected. The plot doesn't exactly adhere to the story of Little Red Riding Hood, and after the basics have been laid down, it's basically anyone's game right down to the gripping and hilarious climax. The film sees Reese Witherspoon's juvenile delinquent being picked up by Kiefer Sutherland's child psychologist after fleeing from her home when her mother and step father are arrested. After telling the psychologist of her relationship with her step father, she soon realises that he's enjoying what she's saying a little too much; and it's not long before she asks him if he's the infamous I-5 killer, and he doesn't do anything to convince her he's not... Freeway doesn't introduce any characters that are particularly likable, and all are guilty to a degree. Most audience members will be on the side of Witherspoon's character, as although she certainly has personality problems, she's great fun to watch and her twisted logic isn't usually far from being spot on! Witherspoon got one of her best roles in this film, and really does carry it despite her young age. Kiefer Sutherland stars alongside her, and it's rather odd seeing him in the psycho role after getting so used to him being Jack Bauer in 24. He does do it great, however. Perhaps the best thing about this film is the pitch black humour that goes hand in hand brilliantly with the absurdity of the piece. The plot is really freewheeling, and the film jumps from road thriller to prison drama to the court room in the blink of an eye, and this helps to ensure that the audience is always kept on their toes. This film won't appeal to people that don't like their movies to be pitch black and unpleasant, but anyone who enjoys a good does of absurdity shouldn't hesitate to track this film down!
Cassandra Maples
Super Reviewer
Freeway Quotes
There are no approved quotes yet for this movie.