Sugar Hill
(1974)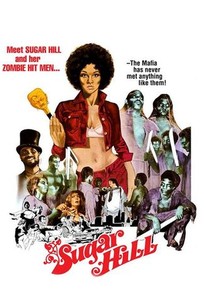 AUDIENCE SCORE
Critic Consensus: No consensus yet.
Movie Info
In this horror movie, a woman's fiance is killed by gangsters. To get her revenge, she conjures up a corps of zombies. The story is also known as Sugar Hill.
Critic Reviews for Sugar Hill
All Critics (3) | Fresh (2) | Rotten (1) | DVD (1)
Zombie connoisseurs will enjoy seeing the monsters returned to their voodoo roots, but should come in expecting a film more goofy than gory.
Unlikely to scare anybody, but it's a haunted treasure chest's worth of 1970s style, slang and racial provocation. ('I hope they're into white trash,' quips the heroine, feeding a gangster to the hogs.)
What's odd about this blaxploitation voodoo horror film is the killer zombies are made the heroes for killing the gangsters.
Audience Reviews for Sugar Hill
½
One of the best blaxplotation movies I've seen yet. When the white Mob kills a lover of the titular Sugar Hill, she does what any woman would do in her situation. Use Voodoo Zombies to extract her pulpy revenge. The only directorial effort by the producer of Raw Meat, Hard Times and ALL of the Police Academy films.
Ken Stachnik
Super Reviewer
½
Sugar Hill is an entertaining voodoo zombie flick from 1974. A club owner in New Orleans is murdered and his wife Sugar goes to a voodoo woman to conjure up Baron Samedi the voodoo revenger. Sugar and the Baron, and the Baron's zombies, go after the mafia kingpin (same guy who played Count Yorga, Vampire) and his henchmen on a bloody trail of voodoo revenge. The Baron even poses as a taxi driver to lure an unsuspecting victim to his fate. Where did Baron Samedi learn to drive a car in the kingdom of the dead? Just wondering. I am a huge horror movie fan. I have seen a lot of zombie movies and a lot of movies like Blacula. I liked Blacula and I liked Sugar Hill also. They are both more like comedy than horror. But that is what the film makers intended I'm sure. Over-the-top craziness. There is very little gore in his movie so the makers were not going for shock value. They did a good job creating interesting and colorful characters as the protagonists and antagonists. The zombies are well-done, unique, and very creepy-looking. This movie is just a lot of fun. Recommended.
Cassandra Maples
Super Reviewer
Sugar Hill Quotes
There are no approved quotes yet for this movie.