Wuthering Heights
(1970)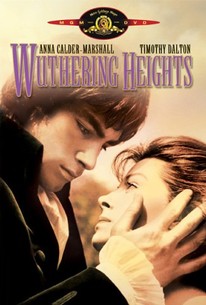 Movie Info
This romantic drama concerns two star-crossed lovers who are half-brother and sister to each other. Catherine (Anna Calder-Marshall) is the daughter of the lord of the manor who falls for the brooding stable boy Heathcliff (Timothy Dalton). When Heathcliff leaves to seek his fortune, he returns to find Catherine has married the local magistrate Edgar (Ian Ogilvy). The story is told by the beautiful blonde servant girl Nellie (Judy Cornwell), who narrates at the beginning to set the stage for the picture. Hindley (Julian Glover) is Catherine's older brother who tries to take over the house and land after the death of their father (Harry Andrews). When his own wife and child dies, a drunken Hindley gambles away the family holdings to the opportunistic Heathcliffe. Filmed in England, the scenery is spectacular but this version lacks the foreboding, shadowy drama of the 1939 original starring Merle Oberon and Laurence Olivier.
Critic Reviews for Wuthering Heights
Audience Reviews for Wuthering Heights
½
I was not that impressed. Wuthering Heights is supposed to be a literary classic. There are nine Wuthering Heights movies (from 1939 to 2012) in the Flixster database, so it has to be a good story right? For now I've rated this one 2 1/2 *'s. I will have to see a couple more at least to do some comparison rating.
I remember really enjoying the book when I read it in school. I remember finding it very tragic and sad. And feeling for the characters to spite their selfish and unkind behavior. I found that this version of the story presented the characters as completely unlikable and having NO redeeming qualities. Perhaps I need to revisit the book again as an adult.
Wuthering Heights Quotes
There are no approved quotes yet for this movie.