Haunted
(1995)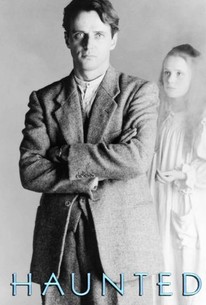 Movie Info
Adapted from the novel by James Herbert, this subtle, melancholy British chiller owes a great deal to Henry James's The Turn of the Screw. The story opens with a chilling prologue in 1905 England, in which a young boy fails to prevent the accidental drowning of his sister. As a young man, David (Aidan Quinn) is still tormented by guilt and remorse. After several years in the United States, David returns to England to continue his work researching and debunking claims of the supernatural. His latest investigation into the alleged haunting of Edbrook Manor -- at the behest of the Marriell's family nanny, Tess (Anna Massey) -- introduces him to the eccentric company of the lovely Christina Mariell (Kate Beckinsale) and her brothers Robert and Simon (Anthony Andrews and Alex Lowe). Despite repeated warnings from Tess that mischievous spirits are at work, David refuses to concede that the house is haunted -- until the angelic vision of his drowned sister reveals the true nature of his strange hosts. The rich period setting lends a classy Merchant Ivory touch to the film, and the high production values indicate the guiding hand of executive producer Francis Ford Coppola, but the performances are a bit too cold and detached to provide any legitimate tension. Fans of the classic 1961 film The Innocents will not find the central mystery particularly challenging.
Critic Reviews for Haunted
Audience Reviews for Haunted
What makes a great ghost story? Its ability to send shivers down your spine and make you want to sleep with the lights on. The Haunting (1963) is a great ghost story. The Haunted is a good ghost story. The story itself is interesting, despite having some flaws. The frights are too few and manages to elicit only a few goosebumps. Quinn plays a guy who has lost his twin sister in a horrible accident at such a young age. Fast forward many years, and he is now a psych. professor who is a skeptic of all things supernatural and goes around debunking frauds. He finally learns that ghosts may really exist, and he is in jeopardy. There are a few special effects that appear quite cheesy, especially toward the end. Overall, a relatively unknown (at least, I've never heard of it prior to catching it on Encore) film worth seeing if you enjoy ghost stories, but you will be able to sleep well afterwards.
nefnie lee
Super Reviewer
At no point was I un-entertained, so I guess that's good. Nothing scary, in fact I found it in the Drama section (even though it has everything to do with ghosts). I was surprised to see Kate Beckinsale show skin...must have been one of her first movies or something.
Curtis Lilly
Super Reviewer
Leigh Ryan
Super Reviewer
Haunted Quotes
There are no approved quotes yet for this movie.