Casino
(1995)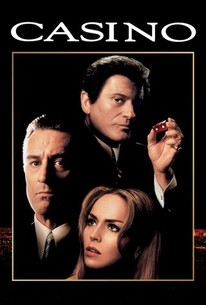 TOMATOMETER
AUDIENCE SCORE
Critic Consensus: Impressive ambition and bravura performances from an outstanding cast help Casino pay off in spite of a familiar narrative that may strike some viewers as a safe bet for director Martin Scorsese.
Movie Info
The inner-workings of a corrupt Las Vegas casino are exposed in Martin Scorsese's story of crime and punishment. The film chronicles the lives and times of three characters: "Ace" Rothstein (Robert De Niro), a bookmaking wizard; Nicky Santoro (Joe Pesci), a Mafia underboss and longtime best friend to Ace; and Ginger McKenna (Sharon Stone, in a role she was born to play), a leggy ex-prostitute with a fondness for jewelry and a penchant for playing the field. Ace plays by the rules (albeit Vegas rules, which, as he reminds the audience in voiceover, would make him a criminal in any other state), while Nicky and Ginger lie, cheat, and steal their respective ways to the top. The film's first hour and a half details their rise to power, while the second half follows their downfall as the FBI, corrupt government officials, and angry mob bosses pick apart their Camelot piece by piece. ~ Jeremy Beday, Rovi
News & Interviews for Casino
Critic Reviews for Casino
Audience Reviews for Casino
½
Five years after his masterful chronicle of the inner workings of the Mafia on the East Coast, co-writer/director Martin Scorsese delivered this ambitious, grandiose, and epic look at the history of the Mafia in Las Vegas, and how greed, vanity, and bad luck brought it all down. This film is often looked down upon due to the many similarities it shares with Goodfellas. They've got the same writers and director, some of the same cast and crew, and similar subject matter, storylines, music, and structure. However, while this film is admittedly basically Goodfellas in Vegas, I still think it's a wonderful film in its own right. Yeah, it's not as good as Goodfellas, but it's still a strong and fascinating piece of work. Robert De Niro is pitch perfect as Sam "Ace" Rothstein- a professional gambler and gaming handicapper who is sent by the Midwest Bosses from Back Home to run the Tangiers Casino in Vegas, and bring in the green, making that little town out west their own private ATM. Joining him is his childhood buddy Nicky Santoro (Joe Pesci) who views Vegas as his own little empire for the taking, no matter what the cost, or how destructive his own temper and ego prove to be. Everyone has their Achilles's Heel, and for Ace it comes in the form of gorgeous hustler Ginger McKenna, who, despite his best efforts, can't be tamed or controlled like everything else in his life. Pesci does ape some of his Oscar winning turn a lot, but it's still a joy to watch. And as Ginger, Sharon Stone proves brilliant, and gives what is easily the best performance of her career. There's also some fine supporting work from Frank Vincent, Don Rickles, James Woods, and Kevin Pollak. I'll admit that the broad plot and the general character storylines and character types are all things we've seen before, and where some of this film's weakness lies. It's all good stuff, but even then, it offers nothing new, no matter how well it's played out. The real meat here, and the best material this film has to offer are the in-depth docu-drama aspects that chronicle (in great and thorough detail) the day to day operations of the gambling industry, the scams the Mob ran, and the history lesson this film gives about the city of Las Vegas's entertainment industry. Sure, Scorsese's other Mafia epic did this too, but here it is goes all out, and takes it to the max. Aside from the things I've mentioned, there's a few other issues that bog this down as well. Even though he and his film's are known for their energy, Scorsese does tend to let things go slack once in a while here, with a few things dragging on a tad more than they should. The film is also quite long, though most of the running time is quite justifiable. For those who aren't quite as into it as me though may find some of this to be a bit tedious. All in all though, this is an excellent, compelling, and engrossing affair. The production values, set design, art direction, and all that are gorgeous, dazzling, and flawless, and there's some terrific camera work, cinematography, and excellently executed sequences. Yeah, it's somewhat of a redux, but even then I can't help but dig the ever loving crap out of it.
Chris Weber
Super Reviewer
½
[img]http://images.rottentomatoes.com/images/user/icons/icon14.gif[/img]
Directors Cat
Super Reviewer
½
Five years after delivering one the mob genre's finest films in "GoodFellas", director Martin Scorsese reunited with screenwriter Nicholas Pileggi and several of the same actors - mainly Robert DeNiro and Joe Pesci - to focus on another true-life crime story. This time he takes it away from the mean streets of New York and focuses on the deserts of Las Vegas. The results may be highly similar but they're just as impressive. Sam "Ace" Rothstein (Robert DeNiro) is a smooth and ambitious type that moves out to Las Vegas to become the operator of the Tangiers Casino. Things go well for him until his volatile childhood friend Nicky Santoro (Joe Pesci) arrives to get in on the action and Sam falls in love with conniving, unbalanced and untrustworthy, showgirl Ginger McKenna (Sharon Stone). Before long, a cycle of drugs and violence ensues while Sam struggles to hold onto his casino license and the mob back home are less than happy with the results. The hallmarks of Scorsese's style and structure - that were so prevalent in "GoodFellas" - are all on show again here. He has his usual reliable cast, delivering voiceover narrations that take us through the events and there is regular use of classic tracks from The Rolling Stones. His directorial techniques and are also on show; from flash-cuts to freeze-frames, crash zooms and montages. In other words, Scorsese is doing it all over again and it's these very techniques and stylistic flourishes that have drawn some criticism Casino's way for being too similar to his aforementioned crime classic. To some extent, I can understand these gripes. There is definitely a feeling of repetition and lack of originality in it's approach. The most obvious comparison being the casting of Joe Pesci. As good as Pesci is (and he is very good) it may have served Scorsese better to cast someone else in that role. The character is too similar to Pesci's Oscar winning Tommy DeVito. I'd liked to have seen (another Scorsese regular) Harvey Keitel, for example, just to mix things up a bit and he's proven beforehand that he's an actor that plays off DeNiro very well. That being said, there is an argument of 'if it ain't broke, dont fix it'. It does tread old ground and doesn't really bring anything fresh to the table but it's old ground that's worth treading again. Where Scorsese does succeed, is in his casting of DeNiro. In "Goodfellas", DeNiro was underused but here he delivers some solid work. He has a less showy role than those around him, making it easy to overlook just how effortless he is. He's rarely offscreen for the entire 3 hours of the film and shows an absolutely commanding reservation. Other great inclusions in the cast are a weasel like James Woods and a surprisingly outstanding Sharon Stone. She takes a back seat in the early stages but when she properly enters the fray, she delivers a very powerful and layered performance and the convincing catalyst for the unravelling of the characters' indulgent lifestyles. She was rightfully Oscar nominated for her work here and very unlucky not to win. It's a testament to these committed performances and Scorsese's expertise that this film still manages to stand alone as a very fine piece of cinema in it's own right. Added to which, the lavish production design by Dante Ferretti and Robert Richardson's sublime cinematography bring the whole glitz, glamour and corruption of Las Vegas to fruition. An enthralling and intimate portrayal of the decline of the mob in the 1970's. It may not be as tightly constructed as "GoodFellas" but how many film's are or ever will be? If this is the only criticism that can be appointed to Casino then there's no point criticising at all. Another fine addition to Scorsese's canon. Mark Walker
Mark Walker
Super Reviewer
Casino Quotes
There are no approved quotes yet for this movie.