To Die For
(1995)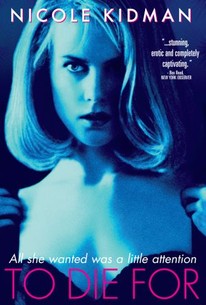 TOMATOMETER
AUDIENCE SCORE
Critic Consensus: Smart, funny, and thoroughly well-cast, To Die For takes a sharp - and sadly prescient - stab at dissecting America's obsession with celebrity.
Movie Info
The price of fame is murder -- or at least it is in the mind of one woman in New Hampshire. Suzanne Stone (Nicole Kidman) has spent most of her life wanting to be famous; she's attractive, speaks well, and imagines herself to be intelligent ("imagines" is the key word here), so she has set her sights on becoming a TV anchorwoman. However, opportunities for female broadcasters are hard to come by in Little Hope, New Hampshire, and she's convinced that her husband, the once handsome but now flabby restaurant manager Larry Maretto (Matt Dillon), is just getting in her way. Suzanne gets herself a spot hosting a weather report on a local public access station, and is preparing a documentary called "Teens Speak Out," which puts her in touch with a trio of high school students -- Jimmy (Joaquin Phoenix), Russell (Casey Affleck), and Lydia (Alison Folland) -- who are even more desperate for attention than she is. When Suzanne hatches a plot to get Larry out of her life once and for all, she uses Jimmy, who has developed a serious crush on her, to do her dirty work, but Larry's sister Janice (Illeana Douglas), who has long believed there was something fishy about Suzanne, eventually begins to realize what happened to her brother. Nicole Kidman won a Golden Globe award for her work in this film, which represented something of a comeback for director Gus Van Sant after the commercial and critical disaster of Even Cowgirls Get the Blues. Screenwriter Buck Henry plays a small role as a high school teacher. ~ Mark Deming, Rovi
News & Interviews for To Die For
Critic Reviews for To Die For
Audience Reviews for To Die For
½
This movie features what is by far the best performance that Nicole has given in her career. It's such a shame that she didn't get an Oscar for this. She is brilliant as the icy, determined, manipulative, intimidating, and sexy woman who will do anything to be famous. She's not likable, but there is some humor with her character, albeit very dark. The rest of the cast is also very awesome, especially a young Joaquin Phoenix, and a very snide Illeana Douglas. The script is very biting and witty, and satirical to the max. This film is extremely dark, yet extremely humorous at the same time. The subject matter is at times very uncomfortable, but there are still laughs...just very uncomfortable ones. As an added plus, the soundtrack is good, Van Sant's direction is well done, and David Cronenberg has a nice cameo. One of the best films of the 90's. The above paragraph is my old review written in the summer of 2008. The previous sentence, this one, and all that follow are from summer 2013. I now realize that I forgot to mention the plot in my old review. Well, here it is: A New Hampshire housewife with delusions of grandeur dreams of making it famous as a TV news anchor. This type of job isn't all that easy to come by in her small, humble town, but she's determined to make it anyway. All that seems to be standing in her way is her going nowhere bum of a husband. Well, that's nothing a little murder can't take care of, right? In all honesty, I can't remember all the details of my initial (and so far only) viewing of this movie. It's obvious I really liked it. I mean, I called it one of the best films of the 90s. That might be an overstatement. Maybe not. It's easily one of the most underrated films of that decade, that's for sure. Anyways, I do think that the film is wonderfully darkly comedic, and the performances are dynamite, so yeah, give it a watch.
Chris Weber
Super Reviewer
½
'To Die For'. Nicole Kidman exudes sexiness and manipulation in an unforgettable performance as she takes us through the fame-obsessed journey and mind of Suzanne Stone. Joaquin Phoenix is wonderfully creepy, and Gus Van Sant's twisted look at fame, recognition and television still has relevance today.
½
"To Die For" is one of my favorite Gus Van Sant films. It's first and foremost a scathing television satire which is right up there with "Network." It's darkly hysterical and Van Sant injects an incredible energy into an already compelling story. But, "To Die For" wouldn't be what it is without the incredible, career best performance by Nicole Kidman. Yes, this is better than the role that won her the Oscar for "The Hours." I can't even put to words how perfect and daring she is here, it needs to be seen to be believed. I think "To Die For" is one of the great dark comedies of the 1990s and a great showcase for Kidman's talents and Van Sant at his most playful. (The only thing keeping it from total greatness is the ending is a small letdown, but that might be because the film actually ends ha)
Steven Carrier
Super Reviewer
To Die For Quotes
There are no approved quotes yet for this movie.