The Cure
(1995)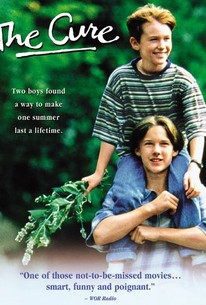 Movie Info
Erik (Brad Renfro) is a 13-year-old boy whose single mother, Gail (Diana Scarwid), has just moved to a new home in Minnesota. Erik feels like a fish out of water with his Southern accent, and he has trouble making friends until he meets Dexter (Joseph Mazzello), a kid a year or two younger who lives next door. Erik and Dexter get along fine, but Gail tells Erik not to go near Dexter when she learns that he contracted AIDS from a blood transfusion a few years ago. Erik ignores his mother's instructions and stands up for the frail Dexter at school, while Dexter's mom Linda (Annabella Sciorra) gives Erik the warmth, affection, and home cooking that Gail is too busy to provide. However, both boys are painfully aware of Dexter's illness, and when one of them spots a headline in a supermarket tabloid that a doctor in New Orleans has discovered a cure for AIDS, they run away together, determined to find the doctor and bring Dexter back as good as new. The Cure was the theatrical feature debut for actor-turned-director Peter Horton, who cut his directorial teeth on the TV series The Wonder Years and thirtysomething.
Critic Reviews for The Cure
Audience Reviews for The Cure
½
The Cure is a very unique and touching drama from Children of The Corn director, Peter Horton. The film takes plays early on in the AIDS crisis, before there were effective drugs, in a time when it was thought that only homosexuals and drug addicts had it. Dexter (Joe Mazzello) is picked on to the point where he can't go to school and the only one who will talk to him is Erik. (Brad Renfro) While the film wants you to see Erik as pure and open minded, the truth is he's a loner who I don't think really understood the origins of the disease and why the other kids picked on Dexter. Both Mazzello and Renfro give outstanding performance for what must of been a hard film to work on, especially at such a young age. Horton defiantly made the right choice in selecting two young actors, who had been in major films prior to The Cure. An inexperienced cast probably wouldn't have gotten as involved in the role as these two did. Overall, the story is strong, the acting is top notch, and it's definitely a tearjerker, that's well worth the price of admission.
Todd Smith
Super Reviewer
Tear Jerkers don't come with any more powerful than cute kids getting AIDS. Joseph Mazzello and Brad Renfro made a great pair and made the characters seem real and their actions believable. The story is extremely touching and one of the first movies to really touch on the disease. While it's not perfect and it does fall under some of the cliches of the genre, it's still very good and for the most part original.
Conner Rainwater
Super Reviewer
A touching story with two wonderful leads: Joseph Mazzello and the late Brad Renfro.
Haley Anderson
Super Reviewer
The Cure Quotes
There are no approved quotes yet for this movie.