10.5: Apocalypse
(2006)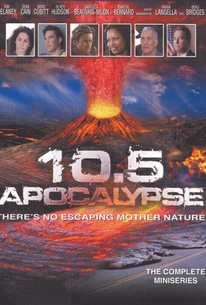 AUDIENCE SCORE
Critic Consensus: No consensus yet.
Movie Info
For those who survived the earth-shaking terrors of 10.5, the tremors just keep on coming in this sequel that finds scientist Samantha Hill (Kim Delaney) and President Hollister (Beau Bridges) doing battle against Mother Nature as she unleashes her formidable wrath in the heartland. Extinct volcanoes are erupting at an alarming rate, and the ground is opening up to swallow entire cities, leading some to believe that the Apocalypse has finally begun. All hope isn't lost yet, however, and as FEMA leaps into action to provide assistance to those in need, volunteer firefighter Brad Malloy (Dean Cain) and kindly doctor Miguel Garcia (Carlos Bernard) do their best to get citizens out of the rapidly expanding danger zones. With even more destruction on the horizon, Samantha is forced to put the past behind her in hopes that her father, Dr. Earl Hill (Frank Langella), a rogue scientist whose ideas have found him exiled from mainstream science, can find a way to divert the path of the quake and save countless lives in the process.
Critic Reviews for 10.5: Apocalypse
All Critics (2) | Top Critics (1) | Fresh (0) | Rotten (2)
As in Fatal Contact, the disasters have more character than the characters.
The thing's a freakin' migraine waiting to happen, trust me. And that's not even taking the dialogue into account.
Audience Reviews for 10.5: Apocalypse
I need to see this again, rings a bell, sequel to the first TV film 10.5 with Dean Cain starring from the New Adventures of Superman!
10.5: Apocalypse Quotes
There are no approved quotes yet for this movie.