Unconquered
(1947)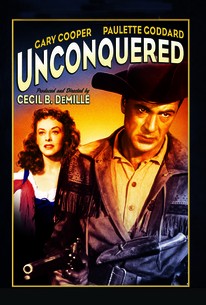 Movie Info
Cecil B. DeMille's first postwar production, the $5 million Technicolor historical spectacular Unconquered lacks only the kitchen sink. The story begins in England in the 1760s, as Abigail Martha Hale (Paulette Goddard), unjustly accused of a crime against the Crown, is sentenced by the Lord Chief Justice (C. Aubrey Smith) to 14 years' forced servitude in North America. Carted off to the auction block, Abigail is highly coveted by slavemaster Martin Garth (Howard da Silva), but the highest bidder turns out to be Virginia militiaman Captain Christopher Holden (Gary Cooper). Having been jilted by his aristocratic fiancee Diana (Virginia Grey), Holden harbors no romantic feelings for Abigail, but he's determined not to let her fall into Garth's grimy clutches. The patriotic Holden also knows that Garth, who is married to the daughter (Katherine de Mille) of Indian chief Pontiac (Robert Warwick), has been trading firearms to the Ottawas. The treacherous Garth later participates in the "Pontiac Conspiracy," an allegiance of 18 Indian nations forsworn to wipe out every colonist on the East Coast. To put Holden out of the way, Garth arranges for him to be court-martialed and sentenced to death on a trumped-up desertion charge. But Abigail, partly in repayment for her rescue from Seneca chief Guyasuta (Boris Karloff) and partly because she's fallen in love with Holden, helps him escape, just in time to save a nearby military fort from an Indian massacre -- a feat accomplished by a subterfuge straight out of Beau Geste, which also starred Gary Cooper! As historically suspect as any Cecil B. DeMille epic, Unconquered is still marvelous escapist entertainment, especially during the time-honored bathtub scene involving a bare-shouldered Paulette Goddard (who spends most of the film in either a state of dishabille or bondage, or both!) Once again, however, Mr. "Spare No Expense" DeMille cuts corners by filming most of his major exterior scenes within the artificial confines of the Paramount sound stages.
Critic Reviews for Unconquered
Audience Reviews for Unconquered
½
Big and loud it's Cecil B. Demille, like a drunk braggert uncle at a family holiday gathering. And this time he's on about manifest destiny and how Native Americans deserved to be divested of their home and life. Oy. Coop is solid as ever but its the supporting cast that's the show here. Look for the great Karloff as a sullen Indian chief.
Kevin M. Williams
Super Reviewer
Typical DeMille starts out promisingly but goes on too long but still kind of fun.
Unconquered Quotes
There are no approved quotes yet for this movie.