The Specialist
(1994)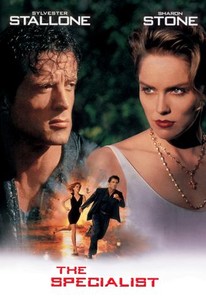 Movie Info
This over-the-top star vehicle for box office draws Sylvester Stallone and Sharon Stone went through a series of directors before landing in the hands of Luis Llosa. Stallone stars as Ray Quick, a former CIA bomb expert now retired in Miami after an operation against a South American drug lord went horribly wrong, resulting in the death of a child. Ray is coaxed out of retirement by May Munro (Stone) to help her get revenge on the powerful organized crime family -- headed up by Joe Leon (Rod Steiger) and his son Tomas (Eric Roberts) -- that killed her parents years before. In the meantime, Ray's former partner Ned Trent (James Woods) is on the Leon family payroll and is seeking his own kind of revenge on Ray. As Ray executes Leon's soldiers one by one, his attraction to May boils over into a steamy encounter in the shower, a prelude to an explosive finale. Although director Llosa wisely kept his camera focused on his buff, semi-clad stars and the film's spectacular effects, the somewhat silly and incoherent plot resulted in a poor box office performance for The Specialist, the third disappointment in a row for Stone.
Critic Reviews for The Specialist
Audience Reviews for The Specialist
½
Not a great movie, but it's just too much fun not to enjoy on some level. You've got Sly as a bomb expert who finds a ton of different ways to blow you up. Sharon Stone adds to the mix mostly as eye candy, but she's actually a really good character too. Everyone else in the cast is pretty much star-studded as well, including Eric Roberts, Rod Steiger and James Woods. You pretty much know what type of movie it is before you put it in, so you'll either love it or hate it.
Conner Rainwater
Super Reviewer
Sly ist the Best! The government taught him to kill. Now he's using his skills to help a woman seek revenge against the Miami underworld.
I liked this movie alot. Sylvester Stallone works very well in the action films that he stars in & this was one of them. Loved the scenes he did with Sharon Stone as well. Just a great movie! :) Love it no matter what critics or people say. :) Absoulutly a fave of mine. :) Will absolutly watch this movie again!!! Love it! :) Just a great movie, my dad even liked it lol. :) Sly rox!!!!! Can't wait to own it. :)
Cassie Hill
Super Reviewer
The Specialist Quotes
There are no approved quotes yet for this movie.