Barcelona
(1994)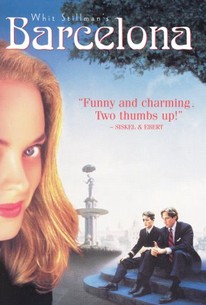 Movie Info
Whit Stillman's follow-up film to Metropolitan is a tart and chilly romantic comedy about Americans abroad during "the last decade of the cold war." Ted Boynton (Taylor Nichols) is an American salesman based in Barcelona with woman problems. Tired of having beautiful women reject him, he decides that plain women are more accessible and vows never to sleep with anyone again until he has found the right girl. Into his life appears his loud-mouthed cousin Fred (Chris Eigeman), an officer in the U.S. Navy. Fred announces a prolonged sojourn and Ted reluctantly takes him in. The two cousins don't hit is off at first but they settle in to a common interest --women. The two hit the town looking for available women --Ted hoping to find love and Fred looking for hot sex. Coming upon a group of beautiful "trade fair girls" the cousins manage to find a girl suitable for each of their needs.
News & Interviews for Barcelona
Critic Reviews for Barcelona
Audience Reviews for Barcelona
It's a shame that Stillman makes so few films. His talky feasts have attracted imitators and launched stardoms but films like this prove his originality.
John Ballantine
Super Reviewer
Whit Stillman is like Woody Allen; if Woody Allen refused to make a film a year and really concentrated on saying something new with each film his makes. Don't get me wrong, I love Woody Allen but Whit Stillman has a handle over his craft that Allen can't seem to pin down. Stillman, like Allen, is all about social observation- delivering insights (and humor) into society through dialogue and situations "Barcelona" is a much larger step up from "Metropolitan" in terms of style, mood and execution. The film is darker and more confident. This helps the subtext remain pointed and mature and not as overly readable like in his previous feature. Stillman has this easy way of enveloping you into his films and "Barcelona" is a lovely yet acidic look into international social relations.
Steven Carrier
Super Reviewer
A dialogue-driven story about two Americans in Barcelona.
Barcelona Quotes
There are no approved quotes yet for this movie.