The Adventures of Prince Achmed
(1926)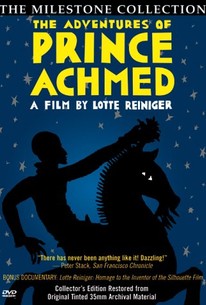 Movie Info
German director Lotte Reiniger spent three years making this silent animated film based on the Arabian Nights legends. The dashing Prince Achmed saves a lovely damsel from evil witches and mythical beasts, as well as discovering Aladdin's lamp, all in the primitive but intriguing silhouette style of animation which Reiniger herself developed. The film's 65-minute running time gave it the distinction of being the first animated feature in the world, but only one copy remained in existence until Reiniger supervised the striking of newly tinted negatives in the early '70s.
News & Interviews for The Adventures of Prince Achmed
Critic Reviews for The Adventures of Prince Achmed
Audience Reviews for The Adventures of Prince Achmed
½
Having the distinction of being the first animated feature, "The Adventures of Prince Achmed" has a lot to offer for film history. The fact that it has quality to it to back it up is in itself, impressive. Silhouette animation, the film is comprised of it all throughout. It's an impressive technique to look at, especially for those who truly love animation, though it is noticeable that it is one that is hard to work with. The filmmakers behind this clearly knew how to use it in a way that made it stunning to look at, there is a high amount of detail in the settings, the people making it, must have gone crazy throughout it, it is that impressive. The character designs are well done enough to differentiate the characters enough to know who is who most of the time, unfortunately, there are certain sequences where it goes so quick, or gets to crowded that it becomes confusing, though it never gets beyond a minor issue. "Achmed's" pacing never goes bad, but it does at times feel like ten more minutes would have helped it. It has a simple story, evil magician messes with prince prince must save day, prince falls in love, and finally prince wins, it is pretty predictable, but it is still good for a fun time, as well as just to look at this rarely used animation technique. "The Adventures of Prince Achmed" is a fun little piece of film and animation history, though it may not be too interesting for those who are not a fan of animation.
DOCTOR PRIME
Super Reviewer
This movie is visually amazingly cool, and I'm glad I finally watched this movie on Netflix, of course the story is a classic tale, so of course it has a predictable ending, but other than that, it's really cool and if you like animated movies I highly recommend this one, it's very unique.
½
A reconstructed bit of animation that's tremendously entertaining and historically significant. Lotte Reiniger is a largely overlooked pioneer in the evolution of cinema. Its good to see her work so painstakingly revived for new generations to enjoy.
Randy Tippy
Super Reviewer
The Adventures of Prince Achmed Quotes
There are no approved quotes yet for this movie.