Blown Away
(1994)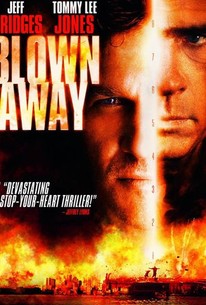 Movie Info
Tommy Lee Jones and Jeff Bridges star respectively as a psychotic (but creative!) explosives expert and a bomb-disposal cop out to stop him in Boston.
Critic Reviews for Blown Away
Audience Reviews for Blown Away
Excellent action thriller starring Tommy Lee Jones as wonderfully crazy bomber and Jeff Bridges as bomb squad member with a past. While the mad bomber is taking out one after another of the hero's squad team with some really mean explosive devices the main character is struggling with his history. Sure, there are some stereotypes about Irish people in America covered here and not all characters are as round and interesting but it's still pretty damn exciting to follow the bomber's path of destruction and the booby traps and chain reactions he builds. The showdown on an old casino ship is simply spectacular. One of the most exciting action thrillers of the 90s with a pretty good soundtrack, too.
½
Not bad at all. The soundtrack was filled with U2 songs and it was quite fun to watch someone in the cast sing and 'dance' to it. Tommy Lee Jones plays the role of the mad Irish bomber who just got out of prison and has decided to target members of the Boston Police bomb squad, it just so happens that Jeff Bridges is about to retire from the bomb squad and settle down. Forest Whitaker plays the fresh, cocky sob in the bomb disarmament unit. An ok action flick riddled with just enough rubes, clues and explosions. Superb acting from Tommy Lee and Jeff Bridges. Everyone loves a hero. But who is it gonna be? ;)
Where was I when this movie came out? To me a hidden all star film. This Movie is loaded with Stars, Jeff and Lloyd Bridges a father and son team from Ireland, Jeff is a ex IRA Bomber who is now on Boston's Bomb Squad, Until bad guy Tommy Lee Jones shows up, and he plays the expert bomb maker who is crazy and after Jeff Bridges for past wrongs. Forest Whitaker plays a new member of the bomb squad who sits around and figures just whets up with Jeff and what it is he's hiding from his past. Suzy Amis plays Jeff?s new wife and has come along way from her starting role in Miami Vice. Full of action, chase scenes and thrills, my only question how did they run electricity to a abandon ship ????? Still no less then 5 stars.
Bruce Bruce
Super Reviewer
Blown Away Quotes
There are no approved quotes yet for this movie.