Wyatt Earp
(1994)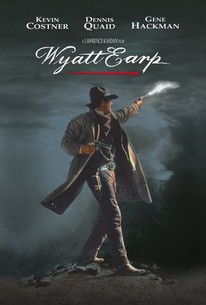 Movie Info
Directed by Lawrence Kasdan, this epic version of the legendary western sheriff-gunslinger's life story stars Kevin Costner as Earp, who lived from 1848 to 1929. Growing up on a farm in Iowa, Earp tries to run away to join the Union Army in the Civil War, but he is turned away because of his youth. Instead, he studies law and marries Urilla Sutherland (Annabeth Gish). But Urilla dies of typhoid fever before they can have children. Earp grows despondent and descends into drinking and petty thievery, but his father Nicholas (Gene Hackman) finds him, sobers him up, and sets him straight. Earp becomes a buffalo hunter and a close companion of Bat Masterson (Tom Sizemore) and his brother Ed (Bill Pullman). With his brothers, Virgil (Michael Madsen) and Morgan (Linden Ashby), Earp sets out to clean up the violence-plagued towns of the old West -- by using his own guns to settle scores. Earp takes up with Mattie Blaylock (Mare Winningham), a drug addict and prostitute, then discards her for actress Josie Marcus (Joanna Going). In Tombstone, Arizona, the Earp brothers and their comrade Doc Holliday (Dennis Quaid), who is plagued by tuberculosis and a compulsion for gambling, meet their match in a ruthless gang led by Ike Clanton (Jeff Fahey). ~ Michael Betzold, Rovi
News & Interviews for Wyatt Earp
Critic Reviews for Wyatt Earp
Audience Reviews for Wyatt Earp
Good film hampered by over length.
½
After Kevin Costner's surprise hit "Dances with wolves" Hollywood considered him the king of Westerns. So it does not come as a surprise that him and director Kasdan tried to tackle the story of one of the great legends of that era. Some of the (beautifully filmed) shots seem to come right out of Costner's own movie. But this film starts out with Earp's youth and takes its time getting to Dodge City, a sheriff star and Doc Holliday. The cast is excellent and full of great names, but Dennis Quaid (who hungered himself down for the Doc role) steals every scene he is in. Sadly, the film is overly long, it would have been a great 2.5 hours movie. As it is, there is still an interesting characterization of a man who became a legend without being a shiny, perfect hero. He is flawed and sometimes even unlikable, much like most of the other characters. But that gives the film a much more realistic feel than most others from the genre. It also helps that James Newton Howard wrote one of the best Western scores ever. If only the film was a tdad shorter.
Kasdan and Costner's version is indeed less B movie than Tombstone, made a year earlier, and is long but still effective once you get past the self-importance. What stands out particularly is how nobility is reached for by less than noble characters, which is as good a way to recall the West as any.
Kevin M. Williams
Super Reviewer
Wyatt Earp Quotes
There are no approved quotes yet for this movie.