The Circus
(1928)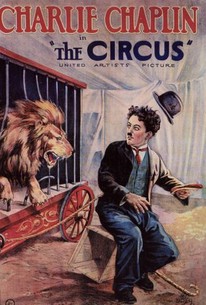 Movie Info
Less maudlin than many of Chaplin's longer films, this one won him a special Academy Award for "versatility and genius in writing, acting, directing and producing," due in part to the outlandish final scenes. In this silent film, the Little Tramp is a member of a traveling circus and falls in love with a beautiful bareback rider.
Critic Reviews for The Circus
Audience Reviews for The Circus
½
A very amusing and delightful silent film that probably would have been better had it been made a bit shorter, since it begins extremely hilarious but after a while starts to become less funny - even though the climax on the tightrope is belly-achingly hysterical.
Carlos Magalhães
Super Reviewer
½
The Circus is quite a charming little film from the silent era, directed by and starring Charlie Chaplin. He of course plays the "little tramp" character who, while being chased by the cops, stumbles into the middle of a three ring circus where his antics draw the attention (and laughs), of the audience. The crowd's reaction does not escape the attention of circus proprietor and Ring Master (Al Garcia), who attempts to hire the tramp as a clown. The little tramp can only be funny spontaneously, and all the ring master's attempts at training him to be a clown fail, so the boss hires the tramp on as a janitor, whom he finds surreptitious ways to put out in front of the crowd at showtime. Of course the ring master has a beautiful step-daughter (Merna Kennedy), who is kowtowed to the ring master after years of abuse. The tramp falls in love with her and tries to win her affection. It's said that after choosing the circus location, Chaplin largely improvised the film, which is probably why the plot is so basic. However, films from this era (especially comedies) are rarely plot-heavy, relying on different situations and tableaus rather than in depth story-telling. The Circus does deviate in the end from other standard stories, and it's final scene is quite effective. Overall, a sweet comedy that lets just the tiniest bit of real life peek through the movie screen.
Devon Bott
Super Reviewer
This movie is really fun, cute, and humorous, I enjoyed it, and I recommend it.
The Circus Quotes
There are no approved quotes yet for this movie.