Sugar Hill
(1994)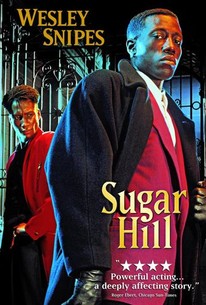 Movie Info
This crime melodrama centers on a pair of Harlem drug dealers. They are brothers, and the conflict begins when one of them decides to break free from the business.
Critic Reviews for Sugar Hill
All Critics (10) | Top Critics (2) | Fresh (2) | Rotten (8) | DVD (2)
While Sugar Hill boasts a hearty collection of excellent performances, those assets are nearly negated by a directorial style that can best be described as...languid.
There are plenty of other 'want to get out of the business' movies out there that are more interesting and intriguing.
October 25, 2003 | Rating: 62/100
_As a message movie, "Sugar Hill" is perhaps no better or worse than most. It can be credited for striving to be more, but striving is not the same thing as being. Snipes deserves a better vehicle than this, but then, one suspects he picked it off the sho
October 30, 2002 | Rating: C
Audience Reviews for Sugar Hill
For me, Sugar Hill was OK.It was just your basic average gangster movie.Nothing really special.Definitely no New Jack City.It seems like you seen 1 like this, You've seen them all.I guess if I had anything good to say about Sugar Hill, It would have to be that the acting was pretty good.Other than that I can't really think of anything else.That's my review & I'm sticking to it
Brody Manson
Super Reviewer
½
In the opening scenes of Leon Ichaso's "Sugar Hill" we see a woman(Khandi Alexander) who is clearly addicted to heroin asks one of her kids to help her tighten a strap around her arm so she can inject the fatal drug. Sadly he agrees since after all he is obeying to mom's orders. The events become tragic and complex as she later dies of an overdose, it becomes clear that her kids will become attached to the drug game. Now in the present world a grown up man named Romello Skuggs(Wesley Snipes) lives a lavish lifestyle, is a respected drug dealer. He still remembers vivid flashbacks of his mother death of an overdose. Romello has seen the goods and bads of the drug life and decides he wants out but getting out isn't as easy as it was when he got in. When Romello was in his teens he was even offered a full scholarship to Georgetown, but is now working with his business partner named Gus Molino(Abe Vigoda). Romello has a brother named Raynathan(Michael Wright) who dresses well but cannot escape the drug lifestyle he is associated with and wants Romello to join him and take over the empire. Romello meets an attractive woman named Melissa(Theresa Randle) and the two start to become close. Melissa becomes upset and frustrated because Romello lives a dangerous life and is afraid her life might be in jeopardy. This is all I'm going to say about this picture. What I do like about "Sugar Hill" is the main character played by Wesley Snipes. Who reminds me of Martin Scorsese's main characters who also suffer from guilt and wants to find a way of being redeemed. It is clear his guilt is selling drugs to his own people and greatly dislikes the black on black violence. Romello's redemption is to get out of New York City and start a new life all over. The final scenes is a sad one involving Romello's brother Raynathan and their father A.R. aka Arthur Romello(Clarence Williams III). I recently read Roger Ebert's review of a urban crime picture "Clockers"(A film I greatly disliked)he wrote something true from the results of black on black drugs and violence. "Cheap handguns make death the result of situations that otherwise would be soon forgotten. Drugs are not a problem so much as a way of life; the central black characters in the movie never use drugs themselves, but trade in them, with death as a cost of doing business. The unintended implication is that these young men are practicing genocide on themselves." "Sugar Hill" isn't really a grim picture as it may seems. The picture builds slowly, once all the elements come into play one can't help but be interested. From the nice use of cinematography, a great all star cast, and strong themes between brothers, guilt, and redemption. "Sugar Hill" might be dated due to the 90's influence but never mind Leon Ichaso clearly has empathy for his story and it's characters.
Sugar Hill Quotes
There are no approved quotes yet for this movie.