The Fugitive
(1993)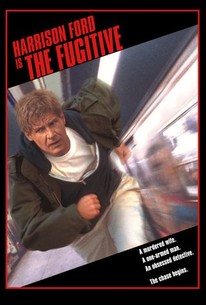 TOMATOMETER
AUDIENCE SCORE
Critic Consensus: Exhilarating and intense, this high-impact chase thriller is a model of taut and efficient formula filmmaking, and it features Harrison Ford at his frantic best.
Movie Info
This 1993 box-office smash partly adheres to the 1960s TV series on which it is based and partly goes off on several tangents of its own. Harrison Ford stars as Dr. Richard Kimble, convicted of murdering his wife. While being transferred to prison by bus, Kimble is involved in a spectacular bus-train collision (one of the best of its kind ever filmed). Surviving the disaster, Kimble escapes, vowing to track down the elusive professional criminal whom he holds responsible for the murder. Dogging the fugitive every foot of the way is U.S. marshal Sam Gerard (an Oscar-winning turn by Tommy Lee Jones), who announces his intention to search "every whorehouse, doghouse, and outhouse" to bring Kimble to justice. Unlike his dour TV-series counterpart Barry Morse, Jones plays the role with a sardonic sense of humor: when a cornered Kimble screams, "I didn't kill my wife," Gerard shrugs and famously replies, "I don't care." Once the premise has been established, scripters Jeb Stuart and David Twohy and director Andrew Davis pull off several audacious plot twists, ranging from Kimble's rendezvous with a sympathetic lab technician to a jaw-dropping dive into a huge waterfall. The second half of the film offers one surprise after another (including the true identity of the murderer), brilliantly avoiding the letdown that plagues many movie adaptations of old TV series. ~ Hal Erickson, Rovi
News & Interviews for The Fugitive
Critic Reviews for The Fugitive
Audience Reviews for The Fugitive
Somewhat based off of the 1960s TV series, this is the story of Dr. Richard Kimble, a vascular surgeon accused of murdering his wife, He claims a one-armed man did it, and, after surviving a spectacular crash during a prison transfer, Kimble escapes and goes on the run to cleat his name, and find out who actually committed the crime, and why. Things aren't so easy though, because hot on his trail is a determined team of U.S. Marshals, lead by the relentless Deputy Sam Gerard. This is hands down one of the finest, most intelligent, and gripping action/suspense thrillers out there. The characters are well written, developed, and compelling, their motivations are clearly defined, the basic story, though simple, is imminently engaging and watchable, and the execution, primarily Andrew Davis's direction, is just top notch. This is more than just a chase movie. It's a study of determination and perseverance. These are just great characters to watch, and whether it is Kimble, or Gerard and his team, you want to see them complete their goal. I saw this movie many times as a kid, mostly because it took multiple viewings (especially at a young age) to really understand some of the finer points and nuance. The other times though, it was just to marvel at the top notch movie making. The stunts and chases are great, and I love the use of mainly practical effects and actual vehicles, like the train. That scene alone is just phenomenal. Top have it just be one of several stand out set pieces is an incredibly unbelievable treat. Speaking of treats, it's also a joy to see small roles filled by Julianne Moore (on the verge of mega stardom), and Jane Lynch, who was definitely appearing here before she became well known. The acting is wonderful, with both Ford and Jones giving some of their best work. Jones got an Oscar for his portrayal of Gerard, and, while I do think it's a great performance, I don't know if he really deserved an Oscar. Also, this film, for better or worse, really got him typecast too. All in all, this is a superb thriller, and one of the best of both the 90s overall, and it's specific genre. Yeah, the rewatch value is debatable, and it sucks that the sequel wasn't quite to this level, but I'm just thankful that this film exists at all, as it is a wonderful reminder of how great the result can be when love, care, and effort are put into what could have been a generic thriller.
Chris Weber
Super Reviewer
Harrison is brilliant in this movie. Great storyline about a doctor who is framed for his wife's murder. He escapes from a prison van during a road accident and goes on the run to find the real killer. Great cast.
Candy Rose
Super Reviewer
Harrison Ford is one of those actors who can take any role, no matter how ridiculous it is, and turn it into something worth watching. He works in every movie he's in and The Fugitive is no exception. In The Fugitive, Ford plays Dr. Richard Kimble who is accused of killing his wife, even though he didn't do it. The movie focuses him on the run from the police, lead by U.S. Marshall Samuel Gerard. Gerard is completely intent on capturing Kimble and the only thing he wants is him in the hands of the law, not even caring about what Kimble has to say. The acting by the two leads is great. Even though Ford is on the run, you're still on his side and I actually sympathized for him because he's really a nice guy deep down and Ford does a superb job of conveying that. Tommy Lee Jones plays Gerard and he's just awesome. You don't really have to listen to him when he says he wants to capture Kimble because you can see it in the way he acts and speaks. Jones deserves credit for pulling that off. The action scenes in the movie are very intense. The scene where the bus crashes on the train tracks is handled with great special effects and it's actually suspenseful. The most intense scene for me is the scene where Gerard is chasing Kimble in the dam. No matter how many times I watch that scene, it always has me glued to the screen. The film also has unexpected plot twists that M. Night Shamalamadingdong couldn't even dream of. After seeing the movie, I found out it's actually a spin off of TV series in the 60's. Since I've never seen the show, I couldn't analyze as to whether or not the film stayes true to source material. Regardless, I still probably wouldn't have minded had it changed stuff. The Fugitive is one of the best action movies ever made in my opinion, I loved the cast, I loved the intensity, it kept me on the edge of my seat, the characters were perfectly crafted and acted and it's an all around brilliantly directed film.
Tyler Robertson
Super Reviewer
The Fugitive Quotes
There are no approved quotes yet for this movie.