King of the Hill
(1993)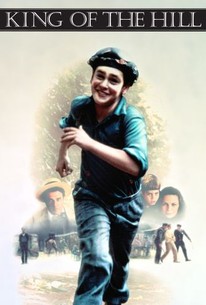 TOMATOMETER
AUDIENCE SCORE
Critic Consensus: A subtle, affecting, character-driven coming-of-age story, King of the Hill is one of Steven Soderbergh's best and most criminally overlooked films.
Movie Info
Steven Soderbergh, after the success of sex, lies, and videotape and the commercial failure of Kafka, pulls a rabbit out of his hat with this quiet and evocative recollection of a childhood lived in the Depression, based on A. E. Hotchner's memoir. Twelve-year-old Aaron Kurlander (Jesse Bradford) is coming of age in a rotting working class section of St. Louis in 1933. As the film begins, Aaron's family is coming apart at the seams due to the increasingly bleak economy. His father (Jeroen Krabbe) ekes out a living with a series of failed sales jobs as the family lives in the dilapidated Empire Hotel in a seamy section of town. When his younger brother (Cameron Boyd) is sent to live with relatives to save expenses, his consumptive mother (Lisa Eichhorn) goes away to a sanitarium and his father abandons him to sell watches in Iowa. At first Aaron retreats into a concocted fantasy world but he gradually becomes drawn into the shattered lives of the tenants of the hotel. Aaron sees the rotting social fabric laid bare and discovers he must temper his childhood dreams with the hard-hitting realities of adult existence. ~ Paul Brenner, Rovi
Critic Reviews for King of the Hill
Audience Reviews for King of the Hill
An amazingly sad and yet uplifting film about perseverance and never giving up, as seen through the eyes of a child.
Chris Browning
Super Reviewer
½
Steven Soderbergh's third feature film seems to have just gone completely under the radar...and that's a shame. Adapted from A. E. Hotchner's memoirs about growing up in St. Louis during the Great Depression. "Aaron" is a 12 year-old growing up poor (more so than most) in a rundown hotel in a seedy part of St. Louis. He is forced to basically become his own man after his brother is sent to live with relatives, his consumptive mother goes off to a sanitarium, and his father struggles to eke out a living as a salesman, a job that sees him away from home for extended periods of time. Aaron's struggle isn't as bleak as it might seem, but the lessons he learns about life are nevertheless still pretty important. His journey to manhood is helped along by a colorful cast of people, especially the various other residents and workers of the hotel (including early appearances by Adrien Brody and Lauryn Hill). We also get Jeroen Krabbe as the dad, Karen Allen as Aaron's teacher, and, playing Aaron, is Jesse Bradford, and he delivers a standout turn. The film is pretty low-key, and I think that might be both it's strongest point, as it isn't a showy "look at me" type of film, but it may also be the reason it's been all but lost to the masses. If you can find this, then give it a watch, It's a fine, heartwarming movie, and another example of why Soderbergh is such an amazing and versatile director.
Chris Weber
Super Reviewer
"When the world turns upside down, the trick is to come out on top." King of the Hill is another under appreciated and under seen Steven Soderbergh film. It features a great performance from its young lead, Jesse Bradford and obviously the direction is as close to flawless as you can get. The story is really engaging and uses its depression era setting to great effect without ever even really mentioning it.  Aaron is a young schoolboy who lives in a hotel room with his mother, father, and younger brother, Sullivan. It's the Great Depression and his father is out of work. In order to make ends meet, they send Sullivan away to his aunts. Soon after that, Aaron's mother is sent back to the sanitarium because of sickness and soon after that Aaron's father leaves for work in Oklahoma. Now it's just Aaron, by himself trying to survive, while the hotel tries to kick him out and a cop tries to bust him whenever he can.  King of the Hill is a special little movie. It's not one that you'd call exciting or extremely original in ways of story, but it's an exceptionally well made, well paced, and well acted film. The situations we see Aaron in aren't overblown for effect. Actually we never even feel too worried for Aaron because he is such an intelligent and good kid.  This is another perfect example as to why I love Soderbergh so much. He doesn't need gimmicks or anything else for that matter to make you care about Aaron and his situation. I see now why a lot of people(who have seen this) classify it as one of their favorites from Soderbergh. I really did love this movie and I plan on watching it many more times in the future.
Melvin White
Super Reviewer
King of the Hill Quotes
There are no approved quotes yet for this movie.