Gettysburg
(1993)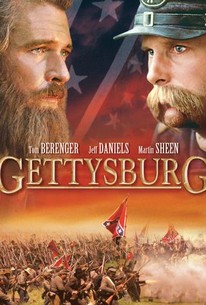 TOMATOMETER
AUDIENCE SCORE
Critic Consensus: Gettysburg's reverent approach to history is balanced with the committed work of a talented cast - and the hard-hitting dramatization of a bloody turning point in the Civil War.
Movie Info
The Pulitzer Prize-winning novel The Killer Angels by Michael Shaara becomes this sprawling historical epic. As in Shaara's novel, director Ronald Maxwell focuses on a handful of major players to dramatize the events of July 1863, when the armies of the Union and Confederacy clash at the small Pennsylvania town of the title. Among them are Martin Sheen as General Robert E. Lee, who disagrees with his top advisor, General James Longstreet (Tom Berenger) over battle strategy, and Jeff Daniels as Colonel Joshua Lawrence Chamberlain, a college professor whose unorthodox techniques save the day (and possibly the war) for his beleaguered army. Other cast standouts include Richard Jordan in his final film appearance as the ill-fated General Lewis Armistead, and cameo roles for Civil War buff Ken Burns and media mogul producer Ted Turner. Filmed on-location at Gettysburg National Military Park, Gettysburg was shot as a television miniseries for Turner's TNT cable channel, but earned a limited theatrical release. ~ Karl Williams, Rovi
Critic Reviews for Gettysburg
Audience Reviews for Gettysburg
½
Really a terrible film. Though it gets points for historical accuracy there is no heart in this overly long mess. Scenes that should take 30 seconds drag on for what seems like hours. The performances (excluding Jeff Daniels) seem like the actors are just going through the motions. The editing is sloppy. Then there is the score. The music plays constantly through the film and is based in digital keyboard sounds. You would think a film that strives to be so historically accurate would have spent the time to develop a more fitting score.
Graham Jones
Super Reviewer
Gettysberg directed by Ronald F. Maxwell and financed by Ted Turner is an epic war film. The film recreates the battle of Gettysberg during the American civil war. During the three days of July 1,2 and 3rd 1863, the Confederate army and Union army clashed head to head to gain control of Gettysberg Pennsylvania. Gettysberg was a strategic point of interest for the Confederate army as Gettysberg had a network of important roads that led to the Northern states. taking Gettysberg would have permitted to Confederate forces to march on Washington D.C. This film chronicles the battle in vivid detail. This is an incredible film to watch because the attention to every single detail is well done. I would say that this film is quite accurate and it has minimal inaccuracy. Jeff Daniels delivers his greatest performance as Joshua Chamberlain. Martin Sheen plays Robert E. Lee, the much respected Confederate general. Gettysberg is a different kind of war film as this is set during the Civil war. The three days of brutal warfare are astounding to watch on the big screen. Everything about the battle is huge and its really awesome to see this incredible battle unfold on film. Maxwell direction is superb and the actors involved in this project really deliver something special on screen. As a war film, Gettysberg delivers something very epic, this is a four hour long film compressing three big days of battle into those four hours. If you're a civil war buff, you must watch this film. The film is quite the experience, and the film has a lot going for it. One thing thats great is that it shows both sides of the conflict, Confederate and Union. Despite some conflicting opinions on both sides, you come to understand why these men would fight for something. Gettysberg shows us not only the battle, But the reason why both sides are fighting. To that degree, Gettysberg is one terrific film as this was a war that ravaged not only America, but families and friends as well.
½
Now, moving onto a completely different war Gettysburg is Ted Turner's Civil ar epic about the major turning point in the war when the Confederacy officially started getting its ass handed to it due to Lee's stubbornness, for the most part. The movie is long, over 4 hours, but it's not stretched out. The battle scenes are unbelievably realistic with people getting blown away and hurled across fields by cannon blasts. Plus the acting is top notch, but the only real complaint here is the dialogue. Sometimes when a General or Colonel gets to rambling on a simple answer or explanation it turns into a speech and this happens several times. But that's the only real complaint here. Serious time and effort were put into this movie and it shows.
Derek Daniels
Super Reviewer
Gettysburg Quotes
There are no approved quotes yet for this movie.