Savage Messiah
(1972)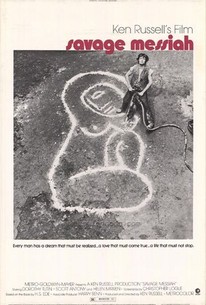 Movie Info
Based on the book of the same name by H.S. Ede, eccentric director Ken Russell created this biographical drama of a great early 20th century artist who died tragically young. Henri Gaudier (Scott Anthony) is only 18 years old, a self-taught Parisian sculptor of enormous talent but prone to rash, exuberant behavior. Henri meets and begins a platonic but emotionally intense relationship with Sophie Brzeksa (Dorothy Tutin), a cultured Polish woman 20 years his senior. The relationship between Henri and Sophie remains inspired and impassioned, if not sexual, and her air of intelligent refinement positively impacts his life and work. Eventually, the couple moves to London, where Henri takes his partner's last name, and his star rises in the art world as the chief proponent of Vorticism, an offshoot of Cubism and Futurism. In real life, Henri Gaudier-Brzeska was a signer of the Vorticist Manifesto and a founder of The London School along with his patron, Ezra Pound, but his genius was not recognized until after his death. Gaudier-Brzeska was killed at the age of only 24 in WWI, a French Army hero who had been twice promoted for bravery. ~ Karl Williams, Rovi
Critic Reviews for Savage Messiah
Audience Reviews for Savage Messiah
½
A lovely, entertaining film that only has occasional flashes of the baroque extravagance that later became Ken Russell's trademark. The actors spend most of the film shouting, but it seems to be faithful to the story (artistic temperaments, you know). According to the IMDB, the lead actor only appeared in four films (one of them made for British television). Interesting. And strange how obscure this film is today -- not even available on DVD? On the smutty side, the film boasts the phenomenally sexy hips of the young Helen Mirren (in full-frontal glory) and a director of photography named Dick Bush.
Eric Broome
Super Reviewer
marvelous, full of passion and romance at a breakneck pace, it's a great deal of fun and ultimately very moving. also contains what i would guess is one of helen mirren's earliest naked performances. RIP ken russell, enfant terrible.
Stella Dallas
Super Reviewer
Savage Messiah Quotes
There are no approved quotes yet for this movie.