The Firm
(1993)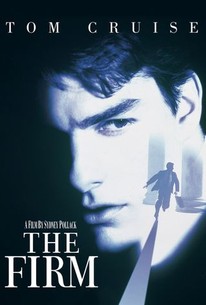 TOMATOMETER
AUDIENCE SCORE
Critic Consensus: The Firm is a big studio thriller that amusingly tears apart the last of 1980s boardroom culture and the false securities it represented.
Movie Info
In this drama, based on the best-selling novel by John Grisham, Mitch McDeer (Tom Cruise) is a young man from a poor Southern family who has struggled through Harvard Law School to graduate fifth in his class. Mitch is entertaining offers from major firms in New York and Chicago, but when Memphis-based Bendini, Lambert, & Locke offer him a 20 percent higher salary than the best offer he's received, in addition to an enticing variety of perks and fringe benefits, he decides to sign on and remain in the South. Mitch's wife, Abby (Jeanne Tripplehorn), warns him that the deal sounds almost too good to be true, but it's not until after several weeks of working with Avery Tolar (Gene Hackman) that Mitch discovers that the vast majority of BL&L's business is tied to organized crime, with crime boss Joey Morolto (Paul Sorvino) using the firm to launder Mafia money. FBI agents Wayne Tarrance (Ed Harris) and F. Denton Voyles (Steven Hill) try to blackmail Mitch into helping them make a case against the firm, while BL&L's "security director" William Devasher (Wilford Brimley) is blackmailing him to do as he's told after Mitch foolishly allows himself to be seduced by a prostitute hired by the firm. The Firm was adapted for the screen by acclaimed playwright David Rabe and features performances by Hal Holbrook, Holly Hunter, and Gary Busey. ~ Mark Deming, Rovi
News & Interviews for The Firm
Critic Reviews for The Firm
Audience Reviews for The Firm
It was okay. Way too long at 2 1/2 hours, though.
Nicki Marie
Super Reviewer
I was looking forward to seeing this film, and I thought it was going to be an excellent thriller. After viewing it, I thought it was a good thriller at best. Based on John Grisham's bestseller, The Firm is a fairly entertaining thriller which mixes dramatic elements. Tom Cruise plays newcomer lawyer Mitch Mcdeere who gets hired by a firm that has ties to organized crime. Now I haven't read the book, but I thought this was a good film with plenty of twists and turns. Director Sydney Pollack keeps the film engaging to the very end, but the film is a tad too long. Tom Cruise delivers a good performance, and he stars apposite some impressive talent. Gene Hackman, Hal Holbrook and Ed Harris are all phenomenal. The Firm is not a perfect film, but it manages to still be an effective intricate thriller that delivers on screen. I've never read a Grisham novel, but I have to say after watching this film, I was impressed enough to want to check out his work. Nowadays Tom Cruise is plainly weird but at least he was able to deliver good performances (and still does, but less frequently) back in the day. The Firm is a good thriller with a great cast, but there's something that's missing from the film to truly make it a memorable film. As it stands, The Firm manages to thrill but by the climax you have to admit that it could have been done slightly better.
If there is ever one movie that showcases the hotshot version of Tom Cruise, it's The Firm. I'll admit that I never really saw a whole lot in it when I saw it for the first time, but it's really grown on me over time. Tom Cruise's performance alone should be worth anyone's time; it's extremely multi-dimensional and he seems to hit everything just right. Even for being a lawyer thriller, Tom Cruise brings his intensity on full speed and has you at the edge of your seat. This also has some great supporting performances from Gene Hackman and Holly Hunter, not to mention the intimidatingly bald Ed Harris. Now this takes John Grisham to the next level and stands as probably the best movie based on one of his books, just edging out The Client. It's an extremely effective conspiracy theory plot that has you interested for the entire time.
Conner Rainwater
Super Reviewer
The Firm Quotes
There are no approved quotes yet for this movie.