Made in America
(1993)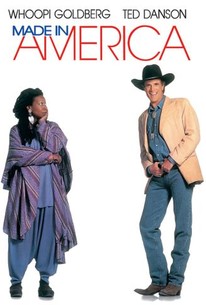 Movie Info
Richard Benjamin directed this farce that plays like "Guess Who's Coming for Insemination?" Whoopi Goldberg stars as Sarah Matthews, who runs an African-American oriented bookstore in Oakland. She is raising her daughter, a beautiful high school student named Zora (Nia Long), on her own after her husband's death many years earlier. As a result of a science class blood test, Zora discovers that the man she thought was her father actually wasn't. Instead Zora finds she was the result of artificial insemination. After researching the sperm bank's records, Zora discovers, much to the surprise of Sarah and herself, that the anonymous sperm donor is in fact, Hal Jackson (Ted Danson), a loud, crude obnoxious (and white) used-car dealer who advertises on late-night television. Zora visits Hal while he is filming a commercial and Hal brushes her off. Enraged, Sarah tells Hal off, but after meeting Zora he now feels a paternal itch. Not only that, but he is beginning to feel an attraction to Sarah. ~ Paul Brenner, Rovi
Critic Reviews for Made in America
Audience Reviews for Made in America
Made in America (1993) Very dated and awkward comedy with the kinda unfunny Ted Danson and annoying Whoopi Goldberg. The whole plot is pretty dumb really as Danson's character is made out to be the father of Nia Long's character after giving a sperm sample many years before, but he is white and Goldberg is black as is Long. Its a nice comedy, very gentle and very heart warming but I don't think its too good really, at no point do you ever go with the premise that Danson could be Long's father, it just doesn't work. The mixing of a typical cliched white hick cowboy type who is a slimy car salesman with an African American woman who has a strong African background and her own African trinket store is an intriguing recipe for laughs but it doesn't really materialise. Its all very cute and cuddly and harks back to the days of cinema when Goldberg and Danson were actually big name draws at the cinema haha remember that!? Throwaway comedy which is known for introducing a young Will Smith and Nia Long into the movies.
Phil Hubbs
Super Reviewer
Whoopi Gooldberg is truly a Comedian with her own skills in the Movie, she totally steals my attention in every of her Movies. Too Sad a very tiny bit part of Will Smith.
Interesting story about Ted being the sperm donor of Whoopi's child. Will's character is funny.
Candy Rose
Super Reviewer
Made in America Quotes
There are no approved quotes yet for this movie.