Dracula vs. Frankenstein
(1971)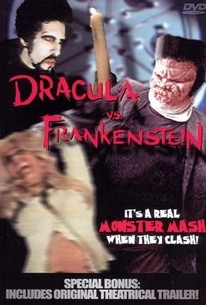 Dracula vs. Frankenstein Photos
Movie Info
Released to video under the title The Revenge of Dracula, this horror spoof finds the infamous Count Dracula joining up with Dr. Frankenstein in order to find a way to quench his thirst for blood.
Critic Reviews for Dracula vs. Frankenstein
Audience Reviews for Dracula vs. Frankenstein
LON CHANEY JR & RUSS TAMBLYN in the same film? You might ask yourself; "How can you go wrong?". And you need only watch this little gem, to see all of the ways you / they CAN GO WRONG. To start there is the sad realization that Chaney's role here (one of his last) is one of few words and consists of moans, grunts and overly dramatic close-ups. And Russ Tamblyn is all but a "blip" on the screen before (Chaney himself) "gives him the axe". Once you get past that, there is the fact that "Dracula" for some reason appears to be of middle eastern decent and speaking through a really bad P.A. system and that "Frankenstein's" head appears to have been made of papier-mache...it's all good! The definate "star" of this show is Regina Carrol as Vegas Superstar "Judith Fontaine" forced to take a sabbatical from her big Vegas show (the clips of which are a high point of the film) to go to California to look for her missing sister. To put it kindly, Regina / Judith is a "hot mess" and at the same time a delight to watch. Her film credits on IMDB sound AMAZING and I want to see them ALL. While I wouldn't recomend this film for "horror fans"...I would HIGHLY recomend it for fans of "cheesy 60's & 70's horror". It's painfully bad at times, yet (in this instance) I really appreciated it's badness.
Anthony Valletta
Super Reviewer
Dracula vs. Frankenstein Quotes
There are no approved quotes yet for this movie.