Brother's Keeper
(1992)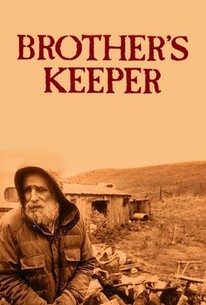 Movie Info
Bill, Delbert, Roscoe and Lyman Ward, were four barely literate bachelor brothers, aged 59 to 71, living in squalor on their 99-acre dairy farm in Munnsville, a rural town in central New York. Then, on June 7, 1990, Delbert was arrested and signed a confession stating that he'd suffocated his brother Bill the previous night, in the bed they'd shared for decades. For 10 months thereafter, Delbert maintained his innocence, and the people of Munnsville rallied behind him.
Critic Reviews for Brother's Keeper
Audience Reviews for Brother's Keeper
Incredible true story of a couple of aging brothers who never tied the knot and ended up living together in poverty in the golden years of their lives. Through strange circumstances, one brother was accused of killing the other but the truth is delightfully more cryptic than that.
John Ballantine
Super Reviewer
"Brother's Keeper" is an interesting documentary about an old man from the backwoods brought up on charges for murdering his elderly brother. Not sound of mind and living in dismal conditions with his remaining brothers, Delbert, a man who has never been very popular is bailed out of jail by several members of the community in his hometown of Munnville. As the court date grows closer, the town rallies more and more behind Delbert as the media becomes more prevalent in the case, bringing about some very eloquent speakers despite their down-home appearances. This documentary is a great frame of reference of where our justice system has fallen and brings to light questions about morality and ethics that we face in our society even today. Joe Berlinger starts off a profound career with this film, to later bring films like the "Paradise Lost" trilogy.
Christopher Haskell
Super Reviewer
An outcast, illiterate farmer is accused of murdering his brother. This documentary is phenomenal in its ability to present this case objectively; as though I were a jury member, I oscillated between Delbert's guilt and innocence, and the film didn't lead me to a particular conclusion, save a few parts (for example, the brutal slaying of the pig made me think the documentarians were drawing a parallel between Delbert and the pig as sacrifices). Though it's not an agenda film, I think about how society creates outcasts after I watch this film, and though Delbert never rises to the status of a tragic hero in my view, there are several pathos-ridden scenes that enhance the film's dramatic effect, if not its implicit argument. Overall, this is a very good documentary about a very rare group of outcasts.
Jim Hunter
Super Reviewer
Brother's Keeper Quotes
There are no approved quotes yet for this movie.