Point of No Return (The Assassin)
(1993)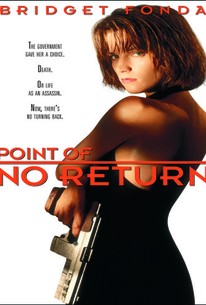 Point of No Return (The Assassin) Photos
Movie Info
An outwardly faithful remake of Besson's La Femme Nikita, but with a new focus on action and violence, Point of No Return tells the story of a drug-addicted young beauty on a fast track to oblivion who is arrested and forced to choose between going to prison to suffer the death penalty or working as an assassin for the U.S. government. She chooses the latter and must undergo specialized and rigorous training. Afterward, she is sent to Venice, California where she falls in love with a photographer. She only kills a few people before she begins looking for a way out. Unfortunately, death seems to be the only way out.
Critic Reviews for Point of No Return (The Assassin)
Audience Reviews for Point of No Return (The Assassin)
½
Some great OTT set pieces with strong performances from Fonda, Keitel and Byrne, but not quite as affecting as it wants to be and severely dated. Full review later.
Thomas Bowler
Super Reviewer
Even though its regarded as a poor remake of the original french film, this is still a good action film. Fonda is supremely sexy as 'Nina' the woman turned around to an assassin, its pretty violent and there's plenty of gun play with steamy scenes. Keitel is great as the cold cleaner, his scene is very unnerving and chilling really, no emotions that man. Bancroft is perfect as the classy elegant female who must teach 'Nina' to become a lady and deadly at the same time and Byrne is good as her boss in his usual stoic manner. It is kinda dated now of course but it still works well, nothing too amazing but its a solid action thriller, Fonda makes it for sure.
Phil Hubbs
Super Reviewer
½
Point of No Return is a prime example of a remake that exists for no reason. It's literally a carbon copy of the original, but set in the US. Even the apartment has the same broken roof panels. There's just no reason I can see why they wanted to make the same exact movie over again. It's not like the cast is all that explosive; Bridget Fonda is just average at best. There's nothing interesting being done visually or content-wise in this that in any way makes it stand out. The only benefit to this version in the context of an American audience is you don't have subtitles, which is apparently enough of a reason to pour millions of dollars into a project. To Say this is bad is wrong, it's just extremely mediocre and pointless. Any human being with half a brain can see that compared to the French version it's just a lame copy. It also has a cheeseball ending thrown in to top it all off.
Conner Rainwater
Super Reviewer
Point of No Return (The Assassin) Quotes
There are no approved quotes yet for this movie.