Indian Summer
(1993)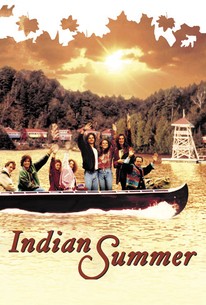 Movie Info
Mike Binder wrote and directed this reunion story in The Big Chill vein about of group of ex-campers, now in their twenties, who return to their old summer camp to get together again. Alan Arkin plays Uncle Lou, the old camp counselor and resident sage at Canadian summer camp Tamakwa. Leading a group of contemporary youngsters wearing Walkmans on their heads to glory in the beauty of a majestic moose in the Canadian Northwoods, he realizes that the children of today are not the way children were in ancient times before 1993, so he decides to close up shop and shut down Camp Tamkwa for good. But before he does he invites a group of campers from the camp's golden age -- men and women now in their twenties -- an assortment of veteran campers who return to reflect on the past and sort out their troubles. The campers include Beth (Diane Lane), a woman who is adjusting to her husband's accidental death; Jennifer (Elizabeth Perkins), a single woman looking forward to renewing her relationship with fellow camper Matthew (Vincent Spano); Kelly (Julie Warner), Matthew's wife, feeling insecure because she knows Matthew is unhappy in the marriage; and Jamie (Matt Craven), a swinging bachelor with an eye for younger women. Rounding out the pack is Jack (Bill Paxton), who as a boy was kicked out of the camp for a mysterious reason. When he shows up at the camp, the rest of the campers are stunned.
News & Interviews for Indian Summer
Critic Reviews for Indian Summer
Audience Reviews for Indian Summer
½
I had seen this film on VHS all those years ago and I still hold it up with other ensemble comedy dramas like Beautiful Girls. Indian Summer has that old style of filmmaking that has disappeared from Hollywood. It is a shame they don't create more films like this for the family and the indie market. They are funny and well developed, the confrontations tend to develop from the proximity of the characters. Great film and don't believe the critics, this is a coming of age story that is very funny. 01/01/2019.
Brendan O'Connor
Super Reviewer
½
I love movies about summer camp. I don't know what it is, but when I was a kid, I was too homesick and terrified to actually enjoy the experience of summer camp. Now, looking back, or watching movies like Indian Summer, or even Meatballs and Little Darlings, I realize how special the experience of summer camp can be for kids with the courage and maturity to appreciate it. What is great about Indian Summer is, these 30-somethings get to return to their beloved camp as adults for one final week of camp before the camp closes for good. As the old saying goes, "youth is wasted on the young," and this movie captures that spirit by allowing these former campers one more week to relive some of the best times of their lives. I don't have fond memories of my one summer at camp, perhaps I was too young or immature to relax and enjoy it. I just wanted to survive and get home. Watching this movie makes me want to go to camp now, at age 42. In fact, my girlfriend and I are taking the journey to the very lake where this movie was filmed - Tea Lake in Algonquin Provincial Park in Ontario, Canada, in about 2 weeks. I can't wait. The location Director, Mike Binder picked to relive his real-life childhood camp experience is Camp Tamakwa, on Tea Lake in Algonquin Park. It's in the heart of Canada's wild, natural, untouched National Park and a perfect place to make a film like this. The casting is decent, although I could do without Kevin Pollak. The acting is fine. The only real problem with this movie, and it's a pretty big problem, is that it feels like one, long, inside joke where everyone is laughing hysterically at each of dozens of memories and most of them feel forced or not entirely believable. The actors are doing their best to express nostalgia, but it only works sometimes. An example of where it works much better is The Big Chill. We learn more about the characters and their respective relationships in that film than we do in this one. This is still a fun movie, more so for those, like me, who love the idea of camp and long for a second chance to go back and experience it. It's why we go camping in the woods as adults and why so many people buy motorhomes and journey into the woods. We all want to be campers again. And, as adults, we are better able to appreciate how special the experience is. And how lucky was Matt Craven? He got to play Hardware in Meatballs in 1979 and then Jamie Ross, 14 years later, in this film AND is engaged to gorgeous Kimberly "Father of the Bride" Williams. Lucky. I will add an addendum to this review next month after we visit the lake where this movie was filmed, and perhaps even visit the actual camp Tamakwa. I just hope it lives up to my expectations. My trip is, after all, inspired in part by this film! The movie was mostly fun for Mike Binder and childhood friend Sam Raimi, who plays Stick, as they revisit their childhood camp Mike attended for 10 straight summers. No wonder he wanted to make this movie! However, it's just another reason why it feels like such an inside joke - an experience we all wish we could have been in on, but most of us weren't.
Mark Harper
Super Reviewer
½
Nice feel good flick even though the ending is pretty much bs
Spencer Macklin
Super Reviewer
Indian Summer Quotes
There are no approved quotes yet for this movie.