Night and the City
(1950)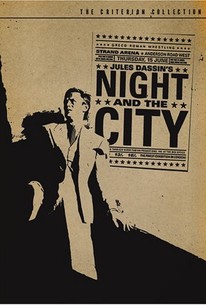 Night and the City Photos
Movie Info
Jules Dassin's Night and the City opens with cheap grifter Harry Fabian (Richard Widmark) running for his life through the streets of London. Harry wants to be big-time, and he does not care how he raises cash for his schemes. Like a junkie, he uses and steals from his girlfriend Mary (Gene Tierney), a singer at the Silver Fox, a seedy nightclub owned by the physically grotesque Phil Nosseross Francis L. Sullivan. Harry, who also works for Phil steering unsuspecting customers to the club, comes up with a plan to wrest control of professional wrestling from promoter and underworld kingpin Kristo (Herbert Lom) by manipulating Kristo through his father, retired wrestling great Gregorius (Stanislaus Zbyszko). For financial backing, Harry turns to Phil and Phil's wife Helen Googie Withers, both of whom give him the money, but only to further their own ends. When Gregorius is accidentally killed by his protege's upcoming opponent, Strangler (Mike Mazurki), and Phil realizes that Helen is leaving him for Harry, the scheme quickly unravels. Truly a glimpse of hell, Night and the City's distorted visuals and dark symbolism depict an underworld from which there is no escape and in which redemption comes at a very high price.
News & Interviews for Night and the City
Critic Reviews for Night and the City
Audience Reviews for Night and the City
½
As my dear old grandmother used to say, before she gave up prostitution to become a carnival barker, "I am loving me some Richard Widmark!"
Randy Tippy
Super Reviewer
½
Imagine Charles Dickens had to make a bit of extra money by writing B-movies in Hollywood and you might get close to imagining this haunting, wonderful film. It fuses the best traditions of film noir with a very British atmosphere: a cast of character actors playing vividly drawn and desperate people. There's a mournful tone to the whole film, like a boat's siren drifting across a foggy Thames. All the characters seem to be reaching for their hearts desire, wanting to believe in a dream of a better tomorrow, in something that's real and true for them. But they rip into each other trying to get there. That gives the film a poignant, tragic trajectory. A compelling central performance by Richard Widmark as Harry Fabian, a man with flair and drive and an infectious hope, but a man who lacks something like the moral fibre to be honest. A man always looking for a shortcut. A nearly-great man, an almost classically tragic figure. Googie Withers is a revelation as Helen, a woman who seems cynical but has hopes and dreams just like Fabian (just like all our characters). So much I haven't even mentioned, the sweaty muscular wrestling scenes are are action scenes of the best kind, in that they drive and skew the plot as well as holding our attention. So many good performances. And a film that speaks to our hopes and our flaws and the tragic spaces between the two. Any Londoner or person who loves the atmosphere of that city should check it out too, some lovely old footage of Trafalgar Square and Picadilly.
Cassandra Maples
Super Reviewer
One of my absolute favourite film noirs. I love Widmark in this movie, I think this is his best performance ever. The story is realistic, exciting, and dramatic. I love this movie, it's one of my favourites.
Night and the City Quotes
There are no approved quotes yet for this movie.