The Babe
(1992)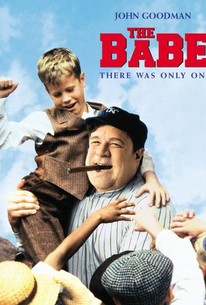 Movie Info
John Goodman is cast as the Sultan of Swat, whose excesses -- especially drinking -- and private demons can (in this context) be excused in view of his genuine love of baseball. The facts never get in the way of a good story for screenwriter John Fusco; we're even offered the umpteenth rehash of "Little Johnny", the largely fanciful tale of the invalid boy who promises to get well if Babe hits him a homer (as in Pride of the Yankees, the cured Johnny makes return a appearance as grownup). The most amusing fabrication is the casting of narrow James Cromwell as the Babe's orphanage mentor Brother Mathias, who in real life weighed 300 pounds. Many of the characters are composites, notably Bruce Boxleitner's Jumpin' Joe Dugan. At least Ruth's two wives--Trini Alvarado as Helen, who suffers Babe's many peccadilloes and dies under strange circumstances, and Kelly McGillis as Claire, who keeps Babe on a very short leash-are depicted with a modicum of accuracy. The baseball sequences are well handled (though there could have been less slo-mo) while Elmer Bernstein's charmingly old-fashioned musical score is right in tune with the film's approach to its subject. The Babe is rated PG; had this been the whole truth and nothing but, and R rating would probably have been in order.
Critic Reviews for The Babe
Audience Reviews for The Babe
There Was Only One. Good baseball movie! This film was genuinely uplifting and to all who only saw the negative side of this film, shame on you. John Goodman is a huge Babe fan and even he felt that this was an acurate portrayal of the Bambino. The film is inspiring, positive for the most part and it's made me feel good every time I've seen it. The Babe is a biopic of George Herman 'Babe' Ruth. The film follows his seemingly bi-polar life from being abandoned by his father at an orphanage, to the discovery of his tremendous home-run hitting ability and finally to his later days. Several items from his legend are included (whether true or not) including: His calling of of a home run, the promise to a dying youngster to hit two home runs in a game that day, and the quote that he had a better year than the president.
Considering that Babe Ruth is the greatest Baseball player that ever lived, you'd think that a film on his life would a memorable and highly entertaining film. The Babe is not a great film, but it's not an awful one either. As a whole it a fun little film that is good, but leaves a lot to be desired. There could have been many things that could have been improved upon, but for what it is, it's mindless entertainment value. I felt that considering Ruth's story, a film based on his life could definitely have been something great, but this film falls short. I enjoyed the film, but considering that Babe Ruth was such an icon, it could have been much better. Despite the inaccuracies, John Goodman is quite good in the lead and does what he can with the material. This film may appeal to Baseball fans, and they mind it entertaining and it is, but it far from what it could have been. The script is underdeveloped and there are clearly good ideas at work, but it plot could have been better structured. With The Babe, we get an underrated biopic of Babe Ruth, that is better than what most critics have said, but the definitive film on Babe Ruth has yet to be made. Entertaining and amusing, The Babe was made with inaccurate facts of Babe Ruth, instead opting for your typical Hollywood style storyline. Although flawed, I liked it, buy like I said, it could have been better as well. Although not the greatest Sports drama filmed, it is not the worst, that honor belongs to The Rookie, which was awful. Goodman gives the film its charm, and he is quite good here. The Babe is a fun little film that manages to overcome its imperfections due to an interesting subject.
John Goodman turns Babe Ruth into an asshole - pretty much sums up the film.
Tim Salmons
Super Reviewer
The Babe Quotes
There are no approved quotes yet for this movie.