The Raven
(1935)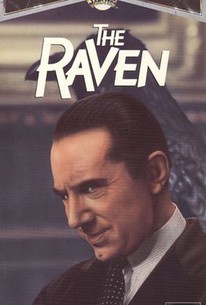 Movie Info
A brilliant but deranged brain surgeon seeks revenge on the woman who spurned his marriage proposal in this well-performed chiller. With the help of an escaped convict, he traps the girl, her father, and her boyfriend in his Edgar Allan Poe-inspired torture chamber.
Critic Reviews for The Raven
Audience Reviews for The Raven
½
A brilliant old horror movie with the great old horror actors! A must see.
½
Lugosi is a mad surgeon who saves a beautiful dancer's life and falls in love with her; Karloff is an escaped criminal who comes to the doctor begging for plastic surgery to change his appearance. Lugosi's campy villainy is in top form ("I like to torture!"), and there's more than a bit of Frankenstein's monster in Karloff's Bateman; the two icons make this tons of fun.
i don't think it gets much campier than this. so bad it's good? it's actually funny. there is a raven but this bears little relation to anything written by poe. lugosi hams it up as a mad doctor who has a poe obssession. karloff is an escaped criminal who wants a new face; instead lugosi disfigures him. this is part of the dotor's evil plan to possess a woman he's convinced is his 'lost lenore.' it's all pretty silly
Stella Dallas
Super Reviewer
The Raven Quotes
There are no approved quotes yet for this movie.