Medicine Man
(1992)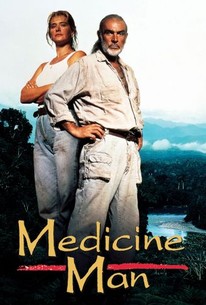 Movie Info
A research scientist discovers a cure for cancer in the Brazilian rainforest but loses the formula. When a logging company begins to harvest the forest, he must race against time to rediscover the secret before it is gone forever in this environmental drama.
News & Interviews for Medicine Man
Critic Reviews for Medicine Man
Audience Reviews for Medicine Man
Yet another movie I watched in school. Why? I wish I knew. I didn't think much of it, obviously, but since I don't remember much of it, I'll say it's okay. Maybe I'll see it again sometime.
½
Dr. Campbell (Sean Connery), a biochemist who has been doing extensive medical research for years in the lush rainforests of the Amazon, has found what just might be a MAJOR medical breakthrough. But that's not to say that he wouldn't enjoy just a little bit of help. Dr. Crane (Lorraine Bracco), a fellow biochemist comes to the aid of Dr. Campbell to help him as much as she can. Will Dr. Campbell and Dr. Crane be able to find this miracle cure that could be just over the horizon? Will they be able to set aside their differences and actually be able to get along one of these days? These are the major questions that watching "Medicine Man" will answer for all the viewers who watch this great movie. "Medicine Man" is one of those movies that doesn't need a bit of special effects to make it an unforgettable movie. It's a film that is real compelling and interesting to watch from start to finish without ever getting boring. With Sean Connery as the lead character, you know there will be great acting included. If you're a fan of great movies, I definitely recommend to not miss out on your chance to watch and even own "Medicine Man." NOTE: That was my Amazon review from the year 2002.
Jason Owens
Super Reviewer
½
Sean Connery is a doctor with a ponytail in the jungle. He accidently discovers a cure for cancer, but doesn't know how he did it. Besides some nice rainforest visuals, Connery's ponytail is the best part of the film.
Medicine Man Quotes
There are no approved quotes yet for this movie.