Final Approach
(1991)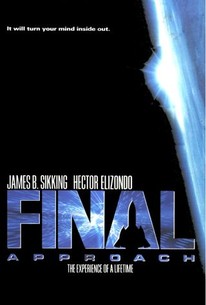 AUDIENCE SCORE
Critic Consensus: No consensus yet.
Movie Info
Colonel Jason J. Halsey is a test pilot for the super-secret Stealth bomber. During one mission, he has a terrible crash and loses consciousness. This special-effects-laden drama follows what happens to him afterward. When Halsey finally awakens he is suffering from total amnesia and finds himself face to face with Dr. Dio Gottlieb, a psychotherapist, who uses a variety of techniques to jog his memory. Gottlieb's tests are grueling and Halsey begins to rebel and even becomes violent. Still the interrogation continues, and eventually, Halsey begins to remember bits and pieces. He knows that he was on some sort of highly- classified mission, but he can't remember exactly what. At one point, the Dr. gets him to remember the climactic crash and the memory is so stressful that Halsey suffers an epileptic fit. The questioning continues and eventually Halsey begins to distrust Gottlieb and even wonders if he has actually been captured by the enemy. Still he must keep on with the process, for without his memories, personal and professional, Halsey has no way of solving the mystery. The colonel's flashbacks are punctuated by excellent virtual reality technology. This film was the first "all digital sound motion picture."
Critic Reviews for Final Approach
There are no critic reviews yet for Final Approach. Keep checking Rotten Tomatoes for updates!
Audience Reviews for Final Approach
Like a number of other films Final Approach uses the flashback as a means of discovery and plot progression, but deviates in that it takes place exclusively in one room, and in the main character's mind. The plus side of this storytelling choice is that it creates a claustrophobic atmosphere that raises the anxiety level felt by Jason as he tries to make sense of everything. The acting, for the most part, sustains the atmosphere but unfortunately after the final ten minutes of revelation you find the previous two hours were little more than setup. Always waiting in ambush to reveal the final twist the film does nothing to provide meaning beyond "where am I?". Once Jason leaves the office we see that we haven't really learned what it all meant. Why was he the way he was? What was the deal with his dead wife? Did any of that have significance? All we discover is the destination, and nothing about the consequences, which are more important.
Brett Warren
Super Reviewer
Final Approach Quotes
There are no approved quotes yet for this movie.