Father of the Bride
(1991)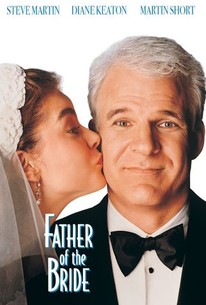 TOMATOMETER
AUDIENCE SCORE
Critic Consensus: While it doesn't quite hit the heights of the original, this remake of the 1950 classic is pleasantly enjoyable, thanks in large part to winning performances from Steve Martin and Martin Short.
Father of the Bride Photos
Movie Info
Steve Martin stars in this remake of the 1950 Vincente Minnelli classic as shoe executive George Banks, whose happily married existence hits a bump when he greets his daughter Annie (Kimberly Williams), home from a semester studying in Europe. She tells her father that she is engaged to be married. When the shocked George asks to whom, she says his name is Bryan (George Newbern) and that he is an "independent communications consultant." George is even more shocked when he finds out what the wedding will cost (when George goes through the card file for invited wedding guests and is told someone is deceased, George chirps, "He died? That's great!"). As George is ignored during the mad preparations for the wedding, he wistfully looks back to all the good times he has had with Annie and sadly looks forward to the time when he loses his little girl. ~ Paul Brenner, Rovi
News & Interviews for Father of the Bride
Critic Reviews for Father of the Bride
Audience Reviews for Father of the Bride
½
Also one of the first movies I ever saw, and I have fond memories of that first shot of Annie Banks at the top of the stairs then gleefully sliding down the banister, the father-daughter basketball grudge-match underscored by "My Girl," the puppy-dog fiancé played by George Newbern, radiant matriarch Diane Keaton, and it goes without saying, Steve Martin's manic meltdown over eight hot dogs versus twelve hot dog buns! I've always loved Kimberly Williams' crystal blue eyes and feisty exuberance, long before she did "The 10th Kingdom" and added a Paisley. Both Williams sisters for that matter (Ashley who played HIMYM's Victoria). This remake definitely feels more modern with many augmenting details like George's shoe company, the impish little brother-cum-valet, and Annie's career-driven life outside of love and family. Martin Short's and B.D. Wong's over-the-top wedding planners are over-the-top, but what are you gonna do?
Alice Shen
Super Reviewer
"I've seen this film more times then I can remember. My mother loves this movie and the one that followed it. So anytime it's on the T.V. we have to watch it. I enjoy it. It reminds me of how simple films use to be. There's not a huge story-line with this film, yet it still charms and holds ones attention. Plus it's funny. Not laugh out loud funny, but the kind that puts a smile on your face. The film feels comfortable. It's one of those movies you can always come back to and watch and know every line and every scene by heart, but still enjoy it just as much as the first time you watched it. It's a movie that never gets old. I only have a handful of movies that are like that for me. Plus there is three legends in the film, Steve Martin, Martin Short, and the great Diane Keaton. A great cast. If you haven't had the chance to watch it, do so. It's a great early 90's film."
♥˩ƳИИ ƜѲѲƉƧ♥
Super Reviewer
George: This was the moment I'd been dreading for the past six months. Well, actually for the past 22 years.  "A comedy about letting go." Father of the Bride is an amusing, heartfelt comedy. I wasn't overly impressed by it, but I did enjoy it. Steve Martin's performance is a little more subtle then his usual screwball routine. The movie happens to be much more entertaining than I thought it would be after the first 20 minutes or so. It started slow, with a speech by Steve Martin about what would occur in the film. It started to pick up once we met the daughter and her soon to be husband though. Mildly funny, but not laugh out loud hilarious, sums this up pretty well. Father of the Bride follows a six moth period between George finding out his daughter, Annie, is getting married to the wedding day. George freaks out when he hears the news, not wanting his daughter to leave him. Then he starts freaking out even more when he sees all the stuff he has to pay for; swans, cake, tuxedo', and even roundtrip airfare for the grooms extended Danish family. He is constantly hounded with details about a wedding that he doesn't want to even occur. But like a good father, he does what he needs to for his daughter  The films theme is sweet, and in the end it turns out to be a pretty touching film overall. I haven't seen the original, but I can definitely say it is on my to watch list. This remake is a pretty easy to enjoy film, but I suspect the original would be at least a little better. At least that's what I've been told. Worth a look, even if you're not a big fan of Martin.
Melvin White
Super Reviewer
Father of the Bride Quotes
There are no approved quotes yet for this movie.