The Train
(1965)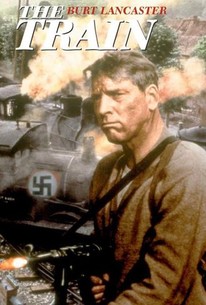 Movie Info
John Frankenheimer directs Burt Lancaster in the tense spy thriller The Train. Lancaster plays Labiche, a French railway inspector. Allied forces are threatening to liberate Paris, so Col. Franz von Waldheim (Paul Scofield) is ordered to move the priceless works of art from the Jeu de Paume Museum to the fatherland. The head of the museum (Suzanne Flon) attempts to convince Labiche that he should sabotage the train on which they are transporting the art. Labiche is more focused on destroying a trainload of German weapons. After his friend is killed trying to stop the train with the art, and after a consciousness-raising conversation with a hotel owner (Jeanne Moreau), Labiche resolves to save the antiquities. Lancaster and Frankenheimer had worked together previously on both Birdman of Alcatraz and Seven Days in May. ~ Perry Seibert, Rovi
Critic Reviews for The Train
Audience Reviews for The Train
Where did this beautiful golden nugget come from? I'd never heard of it before. The damnable Nazis (again!!!) are stealing all the major art, the pride of France, right out of Paris, and the only thing standing in their way is the overmatched, overstressed, overwhelm French Underground. They've got more important things to get to on their plate too, but eventually are persuaded to see the art as more than simply decoration, and perhaps more important than guns, planes and even trains. What's Burt Lancaster doing in here then? Bad casting, but foiled but Lancaster's gravitas as a French railwayman fighting for the Resistance. So good, this film, so good. Jeanne Moreau is under used as only a love interest. Paul Scofield is perfect as the gentleman Kraut psychotic, one of only two people in the film who "understand" how important the art actually is, other than simply as a financial return.
Kevin M. Williams
Super Reviewer
Exciting story based on actual events in the resistance to Nazi occupiers during WWII. Good performance by Lancaster. Definitely worth seeing if this has somehow slipped under your radar.
Christian C
Super Reviewer
½
A screaming pile of awesomeness. Gritty, action packed and full of machismo. Possibly the best train movie ever. Suggested double feature: Von Ryan's Express.
Ken Stachnik
Super Reviewer
The Train Quotes
There are no approved quotes yet for this movie.