Fear
(1990)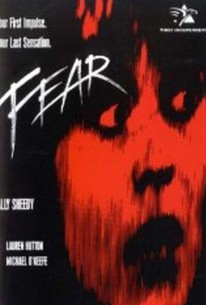 AUDIENCE SCORE
Critic Consensus: No consensus yet.
Movie Info
Fear stars Ally Sheedy as a psychic who frequently helps the police track down criminals. This time, however, there's a serial killer at large who's a pretty efficient psychic in his own right. The story boils down to a battle of wills, and for while it looks as though the villain's will is the stronger of the two. Fear was tensely, tersely written and directed by Rockne O'Bannon, a veteran of the Twilight Zone TV-series revival of the 1980s, as well as the author of the screenplay for Alien Nation (1988). The star-studded supporting cast included Lauren Hutton, Michael O'Keefe, John Agar, Stan Shaw and Dina Merrill. Originally intended for theatrical release, Fear debuted July 15, 1990, over the Showtime Cable Network.
Critic Reviews for Fear
There are no critic reviews yet for Fear. Keep checking Rotten Tomatoes for updates!
Audience Reviews for Fear
Fear is a little known Horror/thriller. I watched this film recently and I thought it was pretty good. The plot features a psychic who helps police track down murderers, one day she decides to help the police with the Shadow Man case, a killer who possesses a more powerful psychic ability and thus he is able to be one step ahead at all times. A very tense, and thrilling horror film, Fear never made it to theatres, instead it aired only on TV. This film is a lost gem in horror, and is very hard to find. I was lucky enough to find this film. Fear is fairly low budget, but it has elements of good horror thrown in to make it a memorable film. The film is atmospheric and thrilling and considering that this is low budget. This is a fairly good attempt at horror. Pruitt Taylor Vince portrays the Shadow Man, and he is simply intense in his role. Taylor Vince always delivers in his roles and he manages to be intense in this film. It's too bad that Fear is virtually unknown, but for those who've heard about this film, you should definitely check this one out. Fear is not perfect, but it's certainly better than most low budget horror flicks that I have seen. The acting is fairly good, and the directing isn't too bad. Director Rockne S. O'Bannon manages to keep things horrifying throughout the film without too cheapening the film. The result is a lost gem in the horror genre that shouldn't be dismissed, and to those who discover this film, you're in for an entertaining treat. Not perfect, but definitely a good film.
Fear Quotes
There are no approved quotes yet for this movie.