Fedora
(1978)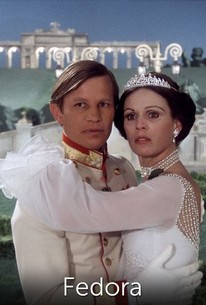 Movie Info
A faltering producer is bent on resurrecting his career by bringing a popular -- and eternally youthful looking -- actress out of seclusion to star in his next picture.
Critic Reviews for Fedora
Audience Reviews for Fedora
Wants to say something about illusion and the foolishness of the pursuit of youth but comes across as unfocused. Not dreadful but far from top flight Wilder.
Fedora(Marthe Keller), the great actress, is dead. Presiding over her spectacle of a funeral in Paris is Dr. Vando(Jose Ferrer), Countess Sobryanski(Hildegard Knef) and Miss Balfour(Frances Sternhagen). Independent film producer Barry Detwiler(William Holden) wonders if he perhaps indirectly caused her death when he arrived two weeks previously in Corfu to ask her to be in a new movie he was producing. Locating her is easy enough but meeting her is not. However, he does get through to her one day in the market in a camera store... With all that it wants to say on the subjects of acting, aging and Hollywood, it is ironic that "Fedora" takes a long time to get where it wants to go. That holds true until a huge twist that not only turns everything on its head but also makes perfect sense. Even then, Billy Wilder for once in his long and storied career just seems satisfied to go through the motions. But at least there is an excellent performance from Marthe Keller and Michael York being such a good sport. p.s. V, I read your online SOS. I should have known something was wrong here when I did not get any mass e-mails for about a month. Just a reminder. My e-mail address is gator68@aol.com.
Fedora Quotes
There are no approved quotes yet for this movie.