The Front Page
(1974)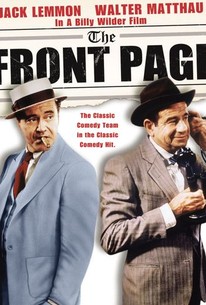 Movie Info
The ruthless managing editor of a Chicago newspaper angrily learns his ace reporter plans to leave the paper to get married. While he trains a replacement, all hell breaks loose and a convicted killer escapes from right under the nose of a bumbling sheriff.
Critic Reviews for The Front Page
Audience Reviews for The Front Page
Wilder and Co. have taken pains to update, refresh and reboot the tale, the prior efforts no doubt informing them but, in spite of all the tricks pulled this is a piece that feels more like nostalgia - of all concerned - a wishing for the old days. And (as in when talking to an old person) there are moments when the story seems to simply stop for no discernible reason. On the whole a decent effort, only not up to the momentum of the previous releases.
Kevin M. Williams
Super Reviewer
A reporter and his editor cover the politically motivated, impending execution of a Communist sympathizer. A slap-dash, map-cap film filled with sharp dialogue, The Front Page is reminiscent of older films that accentuated good writing and fast-paced dialogue -- none of this subtext shit. Jack Lemmon and Walter Matthau are at their comic best, spitting their lines out like the clacking of typewriter keys. From the "they don't make 'em like they used to" file, this film is a quick-witted ride that seems like the only thing it's missing is a Groucho Marx pun and a wave of a cigar. However, at the end of all the shenanigans, I can't say that there's a lot of substance to the film. Each character is flat, and a young Susan Sarandon plays Peggy the way she's written -- as an annoying house frau wannabe whose sole ambition is joy-sucking her soon-to-be husband. There aren't many surprises in the plot. Overall, I suppose that many of my criticisms judge the film on terms it doesn't subscribe to because in the end The Front Page wants to be fun and it is.
Jim Hunter
Super Reviewer
½
So, His Girl Friday is my favorite movie, like, ever. And this adaptation is certainly missing that *thing* that makes His Girl Friday king. His Girl Friday has a kind of lyrical, musical quality about it that makes it fun, fast-paced and AMAZING. This, is a movie. And painfully so. I watched this because of Jack Lemmon. And he was quite good. But not quite Rosalind Russell. I think he could have pulled off the fast-paced dialog that Hawks introduced too. Overall, glad I watched it, but Grant and Russell do it MUCH better.
Jennifer D
Super Reviewer
The Front Page Quotes
There are no approved quotes yet for this movie.